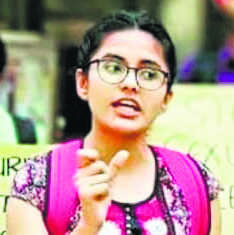 ROBINSINGH@TRIBUNE.COM
Tribune News Service
Chandigarh, August 28
Kanupriya (22) from Zoology Department is the presidential candidate of the Students for Society (SFS), the largest leftist party on Panjab University campus.
She is a student of MSc-IInd year and joined the department in 2014. She hails from Patti town in Punjab. Her mother is a nurse, while her father is in a private job.
"I came in contact with the party in 2014. In 2015, we fought against a sexual harassment case," she said.
"We want to turn the PU Campus Students Council (PUCSC) into a pressure group. Fair hostel allotment, 24-hour open girls' hostels are our issues. The students have to decide what kind of politics they want," she said.
When asked that a woman has never been on president's post in the PU and will this move be successful this time, she said: "Our struggle for 24-hour open girls' hostels and against fascism led us choose a woman candidate."