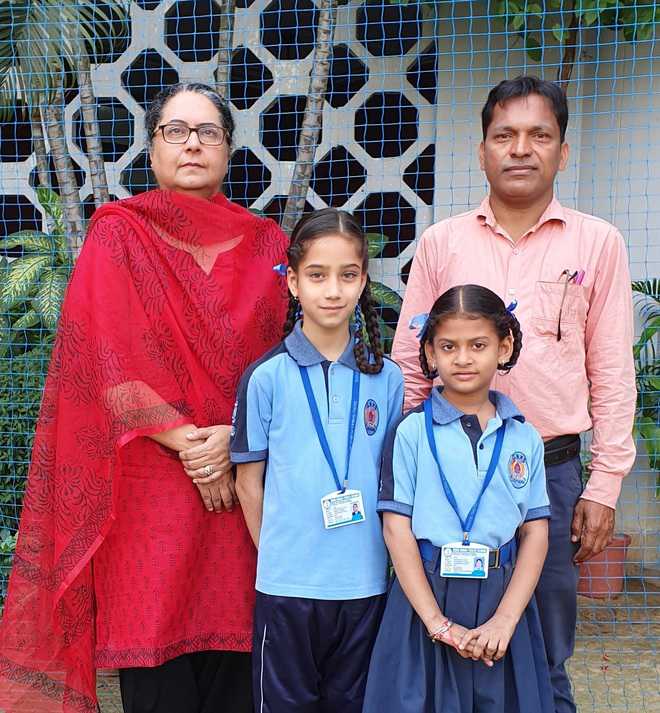 Ludhiana: Students of Guru Nanak Public School, Model Town Extension, participated in a district-level karate tournament, organised by the District Primary Education Department, held at Sarabha Stadium. Rupinder Kaur and Ustatpreet Kaur of Class III bagged silver at the tournament. Principal Mona Singh congratulated them on their success.
DCM is now a Microsoft school
DCM Presidency School added another feather to its cap by being recognised as 'certified Microsoft Showcase school'. The focused teamwork of IT department , training 65 teachers to be Microsoft experts, working with Microsoft's teams and endless Skype sessions with almost 25 countries have made the achievement possible. The school is also on the road to establish itself as a hub of artificial intelligence, virtual reality, robotics, design thinking, coding and other futuristic academic programmes.
Students stage play on education
Students of Class IV and V of Ryan International School, Jamalpur, staged a street play at Guru Arjun Dev Nagar to send across the message of value of education. A total number of 24 students performed the play.
Silver for GGSPS in gatka c'ship
Students of Guru Gobind Singh Public School have made the school proud by claiming second position in the under-14 demo team and third position in fight (fare soti) at the fourth national gatka championship held at Amritsar. The championship was organised on the occasion of the 550th birth anniversary of Guru Nanak Dev. Performers from across the country participated in the three-day long event at Khalsa Senior Secondary School, Amritsar. Milanpreet Kaur and Anmolpreet Kaur have won second position in under-14 demo team while Kirandeep Kaur and Kamandeep Kaur won third position in fight (fare soti). Taranveer Singh and Kamandeep Kaur won individual prizes in the same events.
Students' day out at mall
Tiny tots of BCM International School, Shastri Nagar, enjoyed a one-day trip to Funcity, Hamleys and The Chocolate Box and Lounge at MBD Neopolis Mall. Students of LKG, Class I and II will also visit the mall in this week. Students enjoyed playing various games at the gaming zone, followed by a lavish lunch at The Chocolate Box and Lounge.
Dr Kalam remembered
To work on sharpening merits of its students, BVM, Kitchlu Nagar, celebrated the birth anniversary of the Missile Man of India and former president, Dr APJ Abdul Kalam. A debate competition on 'Education system-Now and then' was organised for students, during which they highlighted the need of skill¬-based education to meet employment needs of the nation.
BVM pays tributes to Dr Kalam
BVM, Udham Singh Nagar, celebrated the 88th birth anniversary of Dr APJ Abdul Kalam with aplomb. Paying tributes to the former president, teachers acquainted students with the life of Dr Kalam and told them how he came to be known as the Missile Man of India. Apprising students of the accolades and awards won by him, teachers talked about his simplicity and humility. Students of Class IX also presented speeches on the occasion.
Techno fest concludes
The two-day Techno fest, organised by BCM School, Chandigarh Road, to commemorate the 88th birth anniversary of Dr Kalam, concluded with a ceremonious splendor. Students from schools across the city had participated in the fest. The team from Nankana Sahib Public School emerged the overall winner and won a cash prize of Rs 3,500, while BCM Arya Model, Shastri Nagar; and Sant Ishar Singh Ji Memorial Public School were declared first and second runner-ups and received a cash prize of Rs 2,500 and Rs 2,000, respectively. TNS
Top Stories