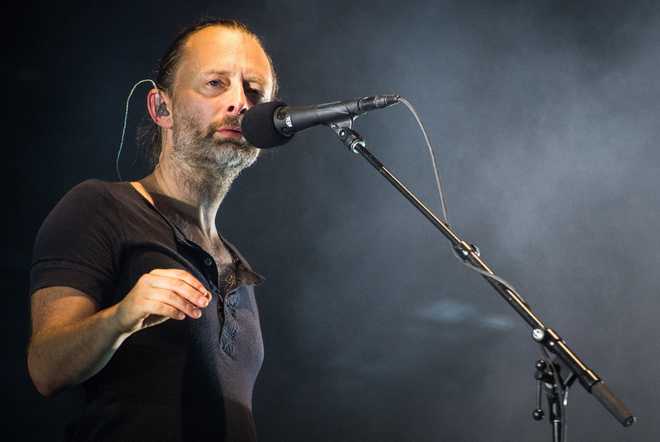 rajivbhatia82@gmail.com
Illustrating melancholy with ease
Thom Yorke — Anima (XL Recordings)
With his third solo outing, Thom Yorke built eagerness with crafty yet mystifying ads for a company called Anima Technologies. The corporation offered to sell an alleged Dream Camera to assist people in remembering their dreams. Anima is Yorke's best solo album, one that stands up against some of his work with Radiohead. The album flourishes on the association between digital and the analogue, with Not the News blending its opening pulse with skillfully etched programming. "Who are these people?" he asks with an easy sonic pattern progressively rising in intensity until his voice gradually fades. Anima is principally inspired by psychologist Carl Jung's theories about the anima and animus, shadows that offset our prevailing identities and marks themselves in our subliminal. However, there is a positivity in there amongst the shadows. The opener, Traffic, delves right into trance-like synths and dreamy vocals of Yorke. In Twist, a melody that seemingly discovers Yorke in sync with Dan Snaith's more recent Caribou records, kid's schoolyard intones function like monumental points reminiscent of 15 Step. Centerpiece Dawn Chorus brings a moment of tranquility to the rest of the record's chaos atmosphere. Yorke's lightly processed vocals murmur a nearly audible cry that expresses the album's most delicate emotions. Anima is essentially a long music video, available on Netflix. Featuring Italian actress Dajana Roncione, the video is directed by Darius Khondji and choreographed by Damien Gilet. It walks the line between sleeping and waking as Yorke travels from a subway to a dreamscape. Interestingly, Yorke's Radiohead bandmate Phil Selway makes a cameo appearance on Impossible Knots. The Axe kicks off with a fictitious grumpy senior citizen lyric, "Goddamned machinery, why don't you speak to me? One day I'm gonna take an axe to you." The song fleshes out Yorke's distress about the computer age we live in and its impact on humanity. Thom Yorke is a master of his craft.
Essential tracks: Dawn Chorus, Not the News, I Am a Very Rude Person, Runwayaway
Rating: *****
---
Educating, enraging, healing
Jamili Woods — Legacy! Legacy! (Jagjaguwar)
The 29-year-old artiste, poet, activist and teacher from Chicago returns evermore enthralling on her sophomore effort, Legacy! Legacy! This time, Jamila Woods puts herself in straight heredity with legendary black artistes and musicians by naming each of the album's tracks after them. Woods contrasts her often rebellious lyrics with her soulful vocals. In Basquiat, Woods collaborates with her Chicago neighbour Saba to transform the track into a primitive expression of spiritual release: "Yes I'm Black no need to elaborate," he raps. Woods opens and concludes the album with a tribute to Betty Mabry Davis, an unsung musician who was briefly married to jazz musician Miles Davis from 1968-69. The album is bookended by two editions of Betty. The intro opens with a soft piano-laden background. "These great greats won't let me lie/ Midnight eyes wide feels like I'm at the riverside/ Great greats come down, they whisper to me quiet/ I'm alive, I'm alive, I'm alive," she emphasises. The other version of the track is reworked in vintage Chicago house style to close the album on a high note. In Giovanni, the backbone of the album and the work of master poet Nikki Giovanni gets heavy spotlight. "I be on my Giovanni, tea and honey/ Tell it like I see it/ Speak it so I be it." Zora fortifies the name of the creative author Zora Neale Thurston as it deals with stereotypes, while Eartha celebrates late actress Eartha Kitt's unbending courage and feminism. Woods' brave and vital conceptions of music and activism create a new path in creative spaces.
Essential tracks: Basquiat, Zora, Sun Ra, Octavia
Rating: ***
---
A knockout blow
Freddie Gibbs & Madlib — Bandana (Columbia)
After a five-year hiatus, Freddie Gibbs and Madlib are back with Bandana, the full length follow-up to their 2014 classic, Piñata. On the production side, Madlib employs soulful jazz samples to create stunning audio canvas for Gibbs to rap over. Fans of this vibrant duo's incredible collaborative album will surely be thrilled by this sequel. Gibbs' constantly inspiring flow compliments Madlib's eclectic beats, as in the spellbinding Half Mane. Bandana offers some notable collaborative fireworks. Black Thought sounds perfect on the soulful Education. Killer Mike and Pusha T assist on Palmolive, while Anderson .Paak's melodic flow fits perfectly on James Brown-sampled Giannis. Madlib's capability to deploy samples at the precise moment is commendable. The poignant vocal samples and ethnic percussion on Massage Seats carry a blazing call-out to the people insisting them to find respect in their work instead of the material gains. Crime Pays is a fine example of the two men's odd chemistry. Looped beats from a glossy electric keyboard help Gibbs' segmented staccato flow with a rhythmic force: "Diamonds in my chain, yeah I slang, but I'm still a slave/ Twisted in the system, just a number listed on a page." Practice showcases Madlib's true versatility, making a concrete soul song for Gibbs to rap over. In Flat Tummy Tea, Gibbs delivers a mocking evaluation of history over Madlib's seamless beats: "Crackers came to Africa, ravaged, raffled, and rummaged me/ America was the name of the company." Soul Right ends the record with an optimistic ray of light: "I pray the Lord'll get my soul right," Gibbs discloses over Madlib's muted jazz base.
Essential tracks: Palmolive, Crime Pays, Giannis, Education
Rating: ***
---
Top 10 Singles
1. Old Town Road..........................................Lil Nas X feat. Billy Ray Cyrus (NM)
2. Bad Guy..............................................................................Billie Eilish (NM)
3. I Don't Care.................................................Ed Sheeran & Justin Bieber (CU)
4. Talk ............................................................................................Khalid (FD)
5. Senorita..............................................Shawn Mendes & Camila Cabello (FD)
6. Truth Hurts....................................................................................Lizzo (CU)
7. No Guidance.....................................................Chris Brown feat. Drake (CU)
8. You Need To Calm Down......................................................Taylor Swift (NE)
9. Sunflower........................................................Post Malone & Swae Lee (CU)
10. If I Can't Have You.......................................................Shawn Mendes (NE)
Legend: CU): Climbing Up (FD): Falling Down (NM): Non-mover (NE): New Entry