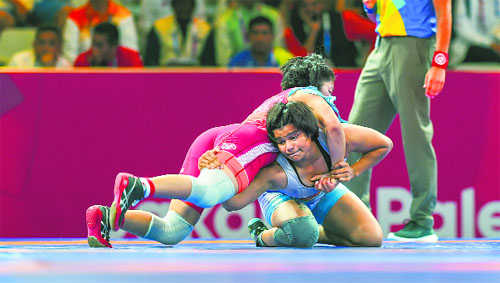 The Tribune @ Asian games
Vinayak Padmadeo
Jakarta, August 21
On Tuesday, Divya Kakran became India's third medallist in wrestling here, winning a bronze in the 68kg category after taming Chinese Taipei's Chen Wenling by technical superiority.
A medal normally brings bouquets from the Wrestling Federation of India (WFI). In Divya's case, though, WFI is ready to take disciplinary action. Divya, originally from Muzaffarnagar in UP, missed the national camp held in Lucknow from August 1 to 13, despite numerous reminders by WFI. What made WFI really unhappy was the fact that she took part in dangal without approval.
WFI president Brij Bhushan Sharan Singh, chef-de-mission of the Indian contingent here, said action would be taken against her. "We didn't serve her the notice earlier because we thought it might disrupt her preparations," Singh told The Tribune. "This kind of behaviour is unexpected. The federation, Sports Authority of India and Government of India have invested a lot in them. Because they are medal hopefuls, they think they can get away. Not anymore. They will have to face the consequences for indiscipline."
Divya isn't the only erring wrestler. Pinki, who lost her first bout on technical superiority against Sumiya Erdenechimeg of Mongolia, will also be served a notice. Pinki too missed the camp as she was busy going to various felicitation functions after winning gold at the Yasar Dogu International in Istanbul in late July.
'Correcting mistakes'
Divya was beaten 11-1 in the quarterfinals by
Mongolia's Tumentsetseg Sharkhuu. Since Sharkhuu reached the final, Divya got a chance to fight for a medal through repechage. "I have been guilty of repeating some mistakes," Divya said. "There was no need for me to go on the attack when she was leading 2-0. I kept on attacking and kept on giving easy points."
Divya won the bronze-medal playoff 10-0. "I was told to finish it in quick time by our coach Kuldeep sir and I was happy to complete the task and win a very important medal of my career," the 20-year-old said.
Humble beginnings
Divya's father Suraj Kakran still sells langots during dangals organised in and around Delhi. Divya says he will continue in that line of work. "My father will keep on selling langots even if we manage to get comfortable," Divya, winner of a bronze in the Commonwealth Games in April, said. "He says he will do that as a reminder to me about our hard times."