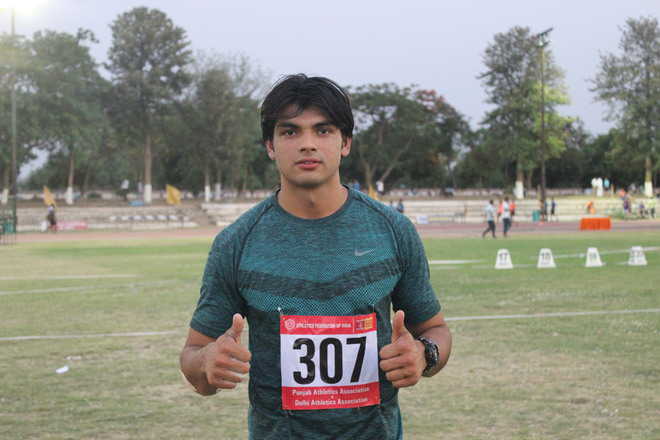 Tribune News Service
Patiala, June 2
A thrilling contest between Neeraj Chopra and Davinder Singh in the men's javelin throw was the highlight of the second day of the Federation Cup National Senior Athletics Championships at Netaji Subhas National Institute of Sports, Patiala, on Friday.
Both the athletes had already qualified for the World Championships but it was Neeraj Chopra who asserted his supremacy with a throw of 85.63m. Neeraj's effort, a new meet record eclipsing Devender Singh's mark of 79.65m recorded in Mangalore in 2015, put him in the top 10 list of throwers this season.
Davinder Singh finished second with a best effort of 83.82m, while Abhishek Singh of UP threw the spear 77.00m to claim the bronze medal.
Tejinder Pal Singh won the men's shot put event with a throw of 20.40m, just 10cm away from the qualification mark for the World Championships. Jasdeep Singh Dhillon picked up silver with a throw of 19.46m while national record holder OP Karhana took bronze with an effort of 19.30m.
Competing in the year's first 200m competition on domestic circuit, Amiya Mallick and Srabani Nanda, both of Odisha, claimed the men and women's titles respectively. Mallick recorded a time of 21.22s while Nanda clocked 23.57s.
Mallick who was competing in his first 200m competition since the 2013 Open Nationals, finished ahead of Sanjeet of Haryana (21.43s) and Vamsi Praveen of Andhra Pradesh (21.78s).
Duttee finishes second
In the women's competition, Nanda finished ahead of Duttee Chand (23.60s) and Jyoti HM of Karnataka (24.37s). In the middle distance events, Delhi's Amoj Jacob was the surprise winner of the men's 800m. The second-year student of Delhi's Khalsa college took his first gold medal of the Federation Cup with a time of 1:50.54s. The women's event saw Archana Adhav of Maharashtra clock 2:05.66s to claim gold while silver and bronze medal went to West Bengal's Lili Das (2:05.93s) and GK Vijayakumari (2:07.37s) of Karnataka.
Karamjit wins gold
In the morning session, Punjab's Karamjit Kaur won her first Federation Cup title in the women's 20km walk with a time of 1:40:01.68s. Soumya B of Delhi and Rani Yadav of UP won the silver and bronze with a time of 1:41:03.16s and 1:42:22.32s, respectively. Karamjit thus joined her sister and national record holder Khushbir Kaur who has previously won the Federation Cup title. "I am satisfied with my result. This is my personal best effort," said Karamjit.
Good results: Coach
National coach Alexander Artsyabashev said these are good results considering the temperature and the fact this this is our developmental squad.
Top Stories