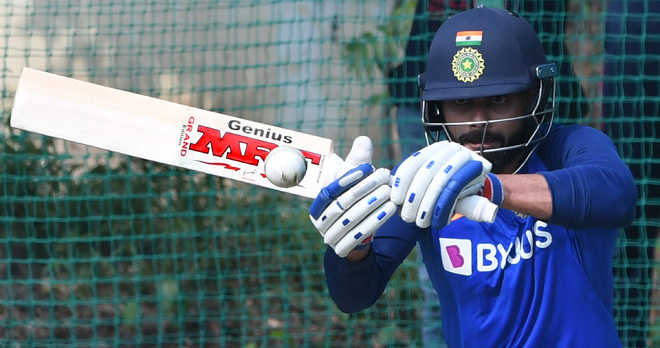 Deepankar Sharda
Tribune News Service
Mohali, September 17
India and South Africa would be very eager to take the field here tomorrow for the second T20 International, especially the first match was abandoned in Dharamsala.
Both teams would be keen to put in their best effort as they know that the winner would not lose the rubber. While the hosts are concerned about evaluating the depth in their batting line-up, the visitors are focussing solely on winning the series, which would give the young team a big boost.
During their last tour in 2015-16, the South Africans has won two out of three matches to win the T20 series. "The calling off of the first match was a bit negative. We would like to play as many matches. Considering the T20 World Cup next year, losing out on one game is not ideal," said visiting skipper Quinton de Kock. "It's a two-match series now and it will be more of a battle. We are not focusing on anything but only to win the series."
"The main aim is to play our natural game," he added, and referred to South Africa's good record against India in India — they've won both their T20Is here. "We have been doing well in the past and the same result we are expecting (tomorrow)."
Referring to the rivalry between Indian captain Virat Kohli and fast bowler Kagiso Rabada, he said he expects a great battle between the two. "They are both good players and most importantly aggressive in their style of play. It would be great for fans to see the battle between them both," he said.
India stars
Meanwhile, the Indians would expect the vast experience of heavyweights like Rohit Sharma, Kohli and Shikhar Dhawan to see them through. India's newly-appointed batting coach Vikram Rathour said getting a good start in the T20Is would give the team a big advantage.
"We are having a rich package of experienced players in the squad. The likes of Rohit Sharma are in great form and recently called upon for the five-day format in the same series," said Rathour.
"If we get a good start in these matches, he will be a huge asset for us," he added. "Otherwise also, we are having a good depth in our batting line-up, which is important to win the shorter format of this sport."
Unlike Dharamsala, the chances of rain in Mohali are negligible and a full game can be expected.
Numbers Game
28.83 Virat Kohli's average against South Africa is his second-worst against any T20I opponent. Kohli's record is worst against Ireland: 9 runs in two innings at 4.50
730 Runs scored by David Miller in 29 T20s in Mohali, at an average of 45.62 and a strike rate of 150.51