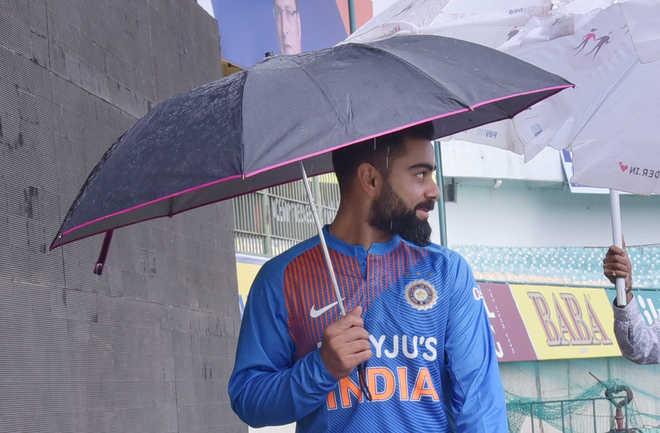 Gaurav Kanthwal
Tribune News Service
Dharamsala, September 14
This should be easy. India are playing at home and are a dominant team. South Africa, on the other hand, are a team in transition. Their entire T20I side has a total experience of 220 matches; India's top-three batsmen have 219 matches under their belt. Kohli's men are fresh from the recent whitewash of the West Indies at their home. South Africa are being led by a new captain and the team is still recovering from the scars of their dismal ODI World Cup campaign.
How much South Africa's young pace battery makes a dent on the Indian line-up in batting-friendly conditions will only be known after the series. In this backdrop, the opener of the three-match T20I series in Dharamsala is tilted in favour of India. But there are more pressing issues on the mind too. The most prominent among them is to strike a balance in the team for the 2020 World T20 in Australia.
The Proteas have just nine matches to reconfigure their team but India has a bigger leverage of 27 matches to get all their permutations and combinations right. "Whenever there is a world tournament coming up, it is like a milestone and you start preparing from backwards. I think every team will go through the same process before the T20 World Cup," India captain Virat Kohli said.
In the last one year, India have played 27 T20Is, winning 18, losing 8 with one no-result. They have had six series wins out of the nine they played in 2018. It is an enviable record, yet Kohli is on the look-out for men who can ensure a foolproof plan for the 2020 World T20.
Shreyas Iyer, Krunal Pandya, Ravindra Jadeja, Washington Sundar and Rahul Chahar are being tried in the absence of Yuzvendra Chahal and Kuleep Yadav. Bhuvneshwar Kumar and Jasprit Bumrah have been rested to give chance to Navdeep Saini, Deepak Chahar and Khaleel Ahmed.
India's familiar woe in this format is sluggish scoring in the Powerplays followed by a crumbling of the middle and lower order. Kohli's fascination for players who can bat and bowl explains his desire to plug this gap. "I think it's about finding the best balance as a side and not necessarily stick to one kind of combination. If all teams across the world are batting till No. 9, 10, why can't we," he said.
India's T20 dilemma is not new. It is one format India have struggled after winning the inaugural title in 2007. India have bowed out in Super 10s thrice (2009, 2010, 2012), once in the semifinals (2016) and once as runners-up in 2014. South Africa may or may not provide stiff challenge but they have brought T20 specialists from their leagues who will make their international debuts and might dazzle India with their individual performances.
Rain forecast
Dharamsala: Rain is going to play its role in the series-opener here, though it remains to be seen to what extent it affects the game. It has been raining here in the evenings for last three-four days but the sky becomes clear in the day time. However, with the Dhauladhar mountains engulfed in clouds during this time of year, rain is just minutes away from this hill town. At the stadium, groundsmen worked overtime with the covers, removing and covering the ground from time to time. Interestingly, the groundsmen were seen sprinkling water in and around the stumps.
Think before you tweet!
Think before you speak, think twice before you tweet and, if it is about MS Dhoni, you better not tweet at all. Virat Kohli learnt this lesson the hard way, years after taking over the India captaincy from his friend and mentor. Kohli recently tweeted a picture of him sitting exhausted at the ground, with Dhoni standing by his side after beating Australia in a league game of the 2016 World T20 in Mohali. Kohli scored an unbeaten 82 and Dhoni, then captain, pushed Kohli hard with his quick running between the wickets. "A game I can never forget. Special night. This man, made me run like in a fitness test," Kohli had tweeted. It set off rumour mills churning, with speculation that Dhoni could be retiring soon. "I still remember it but I have never spoken about that game," Kohli clarified today. "So I thought of sharing this post. Now people interpreted it in a different manner! I think it was a lesson for me, that the way I think, the world does not thinks it that way." MSK Prasad, the chairman of selectors, termed it "false news" and Dhoni's wife Sakshi said: "It's called rumours." Gaurav Kanthwal
Numbers Game
0 India have never beaten SA in a T20 series at home
6 Series wins for India in the last 9 T20I series. SA have won 4 of the last 6 T20I series
6 Of the last 10 T20Is at Dharamsala have been won by teams batting second. SA beat India by 7 wickets in the first T20I in Dharamsala in 2015, despite Rohit Sharma's century
220Is number of T20Is this SA team has played collectively. India's top 3 — Rohit, Dhawan and Kohli — have a collective experience of 219 T20Is
2-1 India beat SA in their last T20I series, in SA last year
2-0 SA whitewashed India in 2-match T20I series in India in 2015