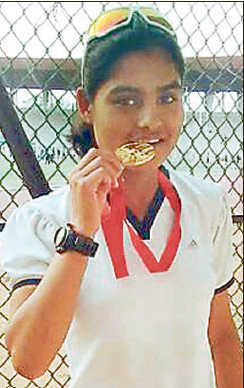 Gaurav Kanthwal
Tribune News Service
Chandigarh, April 22
Seema of Raitan village in Chamba district has pulled off a stunning feat by breaking the national record in the 3000m race in the ongoing Youth National Athletic Championship in Hyderabad.
The 17-year-old Himachal girl reset the meet and national record of 10:00.22s with an effort of 9 min, 56.25s to become the national champion in the Under-18 category.
In a state where sport has very little active participation or mass following, the story of an athlete from a remote village breaking the national record in a track and field event is very encouraging. Seema's story is somewhat similar to that of Suman Rawat, an Asian Games medallist from Himachal Pradesh. In both the stories, the central figure is a girl child from a humble family who excels on the national stage with her grit and determination. Like Suman, Seema is set to represent India in the near future.
Raw talent
Seema took up athletics in Class 6 and by the time she completed her Matriculation, she had become the state champion in 1500m. Impressed by her raw talent and potential, her coaches admitted her to the Sports Authority of India (SAI) Training Centre in Dharamshala in 2015. The very next year saw Seema break the U-16 national record in the 2km event in Coimbatore by clocking 6min, 27.13s.
In 2017, the Class 12 student of Government Senior Secondary Girls School, Dharamsala, went one step further and broke another age-group national record.
The 5ft, 1in tall Seema wanted to become a sprinter but her height was more suitable for long distance running. Seema has taken this in her stride and now aims to represent India in international competitions.
Aiming high
She says it was the wish of her late father, Vajeeru Ram, to see her become a successful international athlete. "My preparation was up to the mark and I had gone with a positive frame of mind to win a gold medal in this championship," she said. "But honestly, I did not expect to break the national record. I have only one aim in my life — I want to be an international athlete and a good sportsperson."
Hailing from a modest background in a remote corner of district Chamba, Seema's family has no source of actually earning money. Her mother is a housewife and ekes out a living by tilling a small chunk of land in the village.
"She comes from a very humble background but she is rich in terms of talent," said Kehar Singh Patiyal, athletics coach at the SAI centre in Dharamsala.
"She is a very focussed athlete and very sincere in her training," the coach said. "So much so, she does not go home during the vacations. She is here in the centre all round the year, training for her next competitions."
"Till the end of this academic session, she will be in the SAI hostel but from next year onward, she will need a stable financial income to pursue her dream," Patiyal added. "She is in dire need of sponsors."