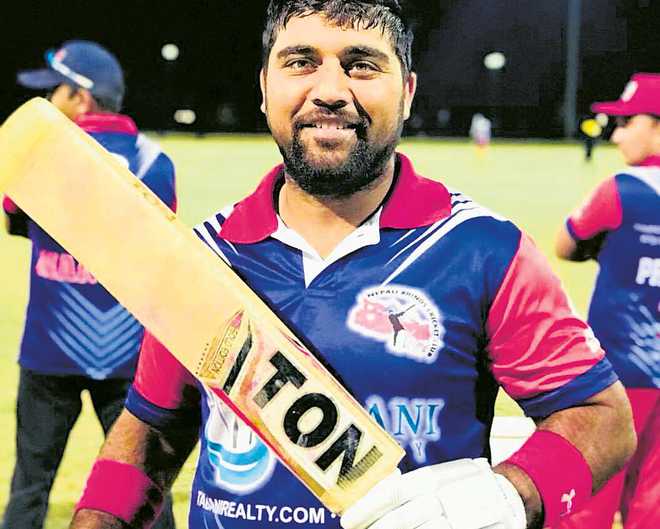 Subhash Rajta
Tribune News Service
Chandigarh, January 13
Sunny Sohal dreamt of playing cricket for his country all his life. Finally, at age 30, he has realised his dream, though in a slightly different way. Instead of donning the India colours, the Mohali boy will wear the US colours, his adopted country. Nevertheless, Sohal is as happy to represent the US as he would have been playing for India.
"I can't thank God enough. I am absolutely delighted over this opportunity coming my way, and I will give my best to make it count," Sohal told The Tribune from Washington.
For the record, Sohal played the Ranji Trophy for Punjab before he shifted base to the US in 2014. Sohal, who made 1202 runs in 21 first class matches, was an attacking opener and a handy part-time spinner. He represented the country at the U-19 level a few times, and also played in the IPL for Kings XI Punjab and a couple of other franchises.
"I wasn't happy with the chances I was getting back home. In fact, for about a year before moving to the US, I had almost given up playing cricket," recalled Sohal. "But then I landed in the US, the land of opportunities, and I was back on the ground, playing and enjoying the game again."
In the US, Sohal started playing in the Washington Cricket League (WCL) for a team called Potomac. Soon, he started dominating it, with both bat and ball. "It's quite a competitive league. We've many current and former internationals, especially from the West Indies and Pakistan, playing in WCL. I've been quite consistent, and that has earned me a call-up to the national team of the US," said the delighted Sohal.
Sohal is hopeful about the future of American cricket. "Cricket is being introduced in schools. The cricket federation is making lot of efforts to promote the game, and creating infrastructure is not an issue here. So, I can see cricket coming up in a big way here," he said.
Not many get a second chance to realise and live their dream. Sohal got it, and he's grateful: "I couldn't make it in India, but I will make the most of the opportunity here."