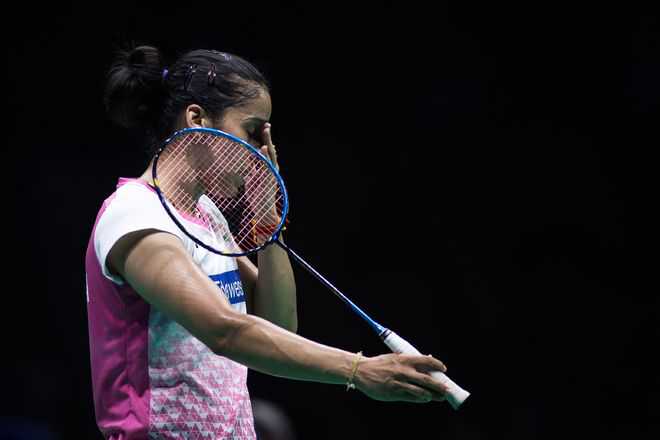 shalender@tribune.com
Wuhan (China), April 28
At 27, Saina Nehwal is at her fittest and quickest in years, and that has helped her achieve great results this year. Better fitness and strong spirit helped her fight hard against Tai Tzu Ying of Chinese Taipei in the semifinals of the Asia Badminton Championship, but in the end it was a familiar result for the Indian star — her eighth consecutive loss to Tai.
The close 25-27 19-21 scoreline reflects the fight Saina put up, but that would be no consolation to her. India's challenge ended at the prestigious tournament with the defeats of Saina and HS Prannoy, who was beaten 21-16 21-18 in the men's semifinals by Chen Long of China.
Hard-fought semis
Saina, who had clinched her second gold medal at the Commonwealth Games earlier this month, played out of her skin but could not get past world No. 2 and defending champion Tai in an edge-of-the seat thriller.
Saina had lost to her nemesis at the Indonesia Open final and All England Championship this year. But unlike those defeats, it turned out to be a thrilling contest today as Saina gave ample display of her new-found confidence and fitness.
In a fast-paced contest in which fortunes fluctuated through the match, it was Tai who made a roaring 4-1 start with her delightful touch game. She held on to the advantage at 6-3, and later grabbed three quick points to lead 9-5 before entering the break at 11-6.
Saina clawed back to 15-15 with a brilliant angled return, keeping the pressure on her rival to move to 17-17 and led for the first time at 18-17. At 20-18, Saina had two game-points, but Tai Tzu saved one with a drop shot and then Saina made a judgement error, and it was 20-20. Saina had four more chances to win the game, but it was Tai who converted her fourth game-point to take the lead.
In the second game, Saina grabbed an early 4-3 lead, but Tai fought back and led 11-9 at the break. Tai moved to 13-9 and 14-11, but Saina drew parity at 15-15 with some hard smashes. Saina led 18-17 and 19-18, but at this crucial moment, missed the baseline with a return: 19-19. She made another judgement error at her own baseline to give two match points to Tai. Saina then hit wide and Tai was celebrating.
Tai's opponent in the final will be China's Chen Yufei, who beat South Korea's Sung Ji-Hyun 21-12 21-13
Positive Prannoy
Prannoy started on a positive note, opening up a 5-2 lead, but Chen quickly erased the deficit. Prannoy tried to keep his patience during the rallies but made too many errors, missing the lines with his returns. Prannoy tried to change the pace and angles of his strokes but faltered in finishing the rallies, and Chen led 11-10 at the interval.
Chen won four points in a row to lead 15-11, and as Prannoy continued to make errors, the Chinese star moved to 19-14. Prannoy saved two game-points, both at the net, but then hit a return wide.
In the second game, Prannoy continued to find the going tough, and Chen led 11-6 at the interval.
Prannoy came out with a barrage of smashes to make it 10-11, but Chen once again moved ahead to 19-16. Chen earned three match points, and converted the second to enter the final. In the final, Chen will take on Japan's Kento Momota, who beat Lee Chong Wei 21-19 21-14.
— TNS, agencies
Top Stories
Cities