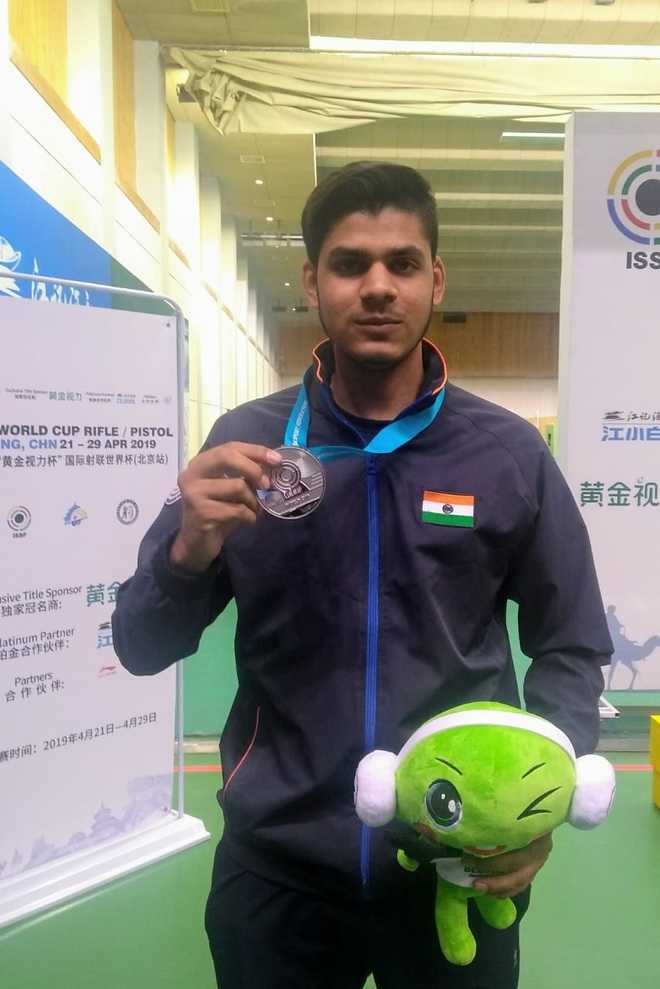 Vinayak Padmadeo
Tribune News Service
New Delhi, April 26
Divyansh Singh Panwar was interested to keep the interaction brief and gave short and crisp answers. Much like air pistol prodigy Saurabh Chaudhary, 16-year-old Divyansh doesn't like any interaction, let alone long conversation over phone and that too with the media.
After winning a historic silver medal in 10m air rifle silver medal at the ISSF World Cup in Beijing that ensured an Olympics quota in the event, Divyansh requested junior coach Deepali Deshpande to talk to media on his behalf and then switched off his phone to get away.
For the record, Divyansh finished behind China's Zicheng Hui, who scored 249.4 points to win the gold. Divyansh, who was the youngest participant, scored 249 points to bag the silver medal, while Russian Grigorii Shamakov scored 227.5 points in the final to win bronze. The second available quota place went to Shamakov as Hui had already secured the quota. This was the second medal for the young star, who combined well with Anjum Moudgil to win the mixed team gold medal on Friday.
"I was feeling proud that I could win a quota for our country. It was a tough competition so I felt relaxed once it was done. Other than that it was like a normal day," Divyansh told The Tribune today.
This was perhaps his longest conversation over phone and he wanted to end the conversation soon. According to Deshpande, Divyansh is "anti-social" and hates interactions. "He keeps to himself, hardly talks and he is not social. He is a typical back-bencher who doesn't say much in classes. But he is a very confident boy," said Deshpande of the young star.
"He becomes a different personality on the range. It is the same like other teenagers in the team. They don't think long-term. Their sole concern is whether 'I have shot well or not'. This makes them more focused. Even yesterday, he was concerned only about his performance. He doesn't care what others do around him," she added.
No celebration
With another set of competition slated to be held on Saturday — elimination rounds of the women's 50m 3 positions, and qualification as well as final in the men's 10m air pistol — the team did not celebrate Divyansh's win today. They just clapped during the brief team meeting called by the coaches ahead of tomorrow's competition. The arrangement suited Divyansh the most.
Divyansh, who only started to shoot in 2014, was participating only in his second senior competition. And like Deshpande had said, Divyansh made it known that he doesn't like talking to media. "I was getting a lot of phone calls, I just ignored them all. I am not interested in these things (interviews)," the boy-wonder, who is from Jaipur, said.
Apart from being present on the photo sharing app Instagram, Divyansh stays clear of social media. "No Facebook or Twitter. Staying away (from social media) is beneficial for us. The less we use our phone, the less we will be distracted. I do use Instagram but that too occasionally," he said.
Studies to take back seat
Divyansh has no qualms in announcing that he is an average student. In his own words, he would study at the last moment and would pass the exams. But now that he is in the 12th standard, he needs to do more to pass the examinations. "Study was never the priority for me. I would do just about to pass my exams. Bahut time se dhyan hata hua hai (I have not thought of studies for a bit now). Last year, I just about passed my final exams. But now I am in 12th so I have to be a bit more serious. But to be honest I am not interested in studies at all. But I do just about enough to pass the examinations," said Divyansh who is a Biology student at the NPS School in Jaipur.
His father is Dr Ashok Panwar and his mother Nirmala Devi is a qualified nurse.
Divyansh's journey started in Jaipur and he learned his ropes under the guidance of Kuldeep Sharma. Incidentally, he chose air rifle as he did not see it worth slogging it out under the baking sun. And just like all the young shooters, Beijing Olympics gold medallist Abhinav Bindra is his idol. "Abhinav Bindra is my idol. Sabke idol wahi to hote hai (everyone idolises him)," he said.
India results
Divyansh, silver, 249.0
Ravi Kumar, 44th, 624.1
Deepak Kumar, 57th, 622.6
Adarsh Singh, 10th, 583
Anish Bhanwala, 22nd, 578
Arpit Goel, 29th, 575
Top Stories