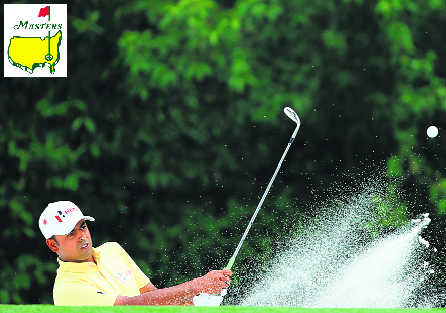 Augusta (Georgia), april 11
Anirban Lahiri rode a rollercoaster before finally making the cut on his first appearance at the Masters today. He became the second Indian after Jeev Milkha Singh (in 2007 and 2008) to make the cut at the Masters. The 27-year-old current Asia No.1, who shot one-under 71 on the first day seemed to be sitting pretty before the day began but soon ran into trouble. Through the entire day, he kept getting into problems by dropping shots and then extricated himself with some sublime shots towards the end for a three-over 75 (two-over 146 aggregate) to get into the weekend action.
Meanwhile, Jordan Spieth threatened to turn the year's first Major into a runaway as he fired a six-under-par 66 for a five-shot lead and a Masters record for lowest 36-hole total at Augusta National on Friday. Playing with a steely focus and pinpoint precision, the 21-year-old Spieth reached the halfway mark on 14-under-par 130 to surpass the 131 posted by Raymond Floyd on his way to winning the 1976 Masters.
Spieth, with 15 birdies and one bogey in his two rounds, also equalled the lowest 36-hole total for any Major championship. Spieth led by five over compatriot Charley Hoffman, who registered five birdies but bogeyed the last for a 68 and nine-under 135.
Lahiri was right on the line as 55 players made the cut, which fell at two-over. Admitting it was a tough day, Lahiri said, "Yeah, it was. I got off to a terrible start, 3 and 4 and then followed that up with 6. I did not execute my plans at all. Obviously I was not able to focus as well as I would have liked. I think that happened because I got wrong footed with a few bogeys early on."
"I think I fought back well, but it was disappointing to drop so many shots. But I'm happy that I managed to make it through to the weekend," he added. Lahiri had three bogeys in first six holes, followed by a birdie on par-5 eighth. The back nine was a rough roller coasterride.
A bogey on the 11th hole with a three-putt was followed by a stunning eagle off a 25-footer putt on 13th. But on the very next hole, he gave it away with a double bogey that was a three-putt. Lahiri fought back with a birdie on 15th and he was once again one-over as it became clear the cut would be two-over. On the par-3 16th, where he birdied in the first round, he hit into the bunker, leaving himself a seven-footer for par and he missed it. He was back at two-over and on the knife-edge.
Lahiri did not make it easy for himself on 17th as he went into the second but came out with a low punch through the branches and trees and onto the green as the ball escaped all obstacles. He got his par. Needing a par on 18th, he hit a 3-wood instead of driver and found the fairway. On the second he went off the green, leaving himself a very tough chip. He pulled it off yet again to come within two feet of the pin and holed it for par and moved into the weekend.
On Saturday, he carded two-over 74 to take the 51st position after third round. — Agencies
Lahiri's Masters
2 Anirban Lahiri is the second Indian to make the cut at the Masters. Jeev Milkha Singh made the cut in 2007 and 2008, but missed it in 2009.
3 Lahiri is the third Indian to play at the Master, after Jeev Milkha and Arjun Atwal. Jeev has figured thrice at the Masters (2007, 2008, 2009), while Atwal had one appearance there, in 2011.
4 This is Lahiri's fourth Major appearance. He's figured twice at the British Open (2012 and 2014) and once at the PGA Championship (2014). His best result in a Major is Tied 31 at the British Open in 2012.
13 The number of Major apperances made by Jeev Milkha Singh, the highest by an Indian golfer. The break-up is: 3 Masters, 4 US Open, 2 British Open and and 4 PGA Championship apperances.
Top News
The withdrawal of statement by MP Senthil came when the Hous...
DNV Senthil Kumar on Tuesday triggered a row by using a pejo...
The DMK MP's remark on Hindi heartland states had led to a f...
The 30-share BSE Sensex jumps 303.25 points, or 0.44 per cen...
A senior police officer says security has already been stepp...