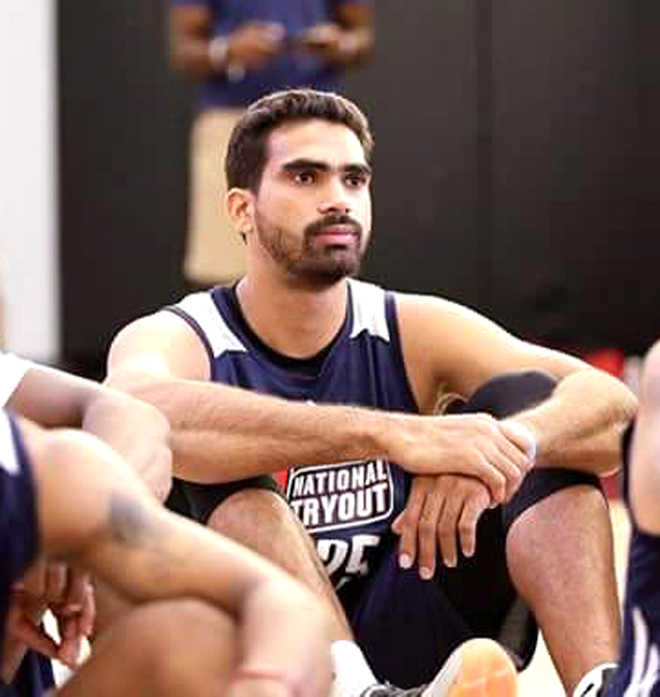 Sabi Hussain
Tribune News Service
New Delhi, November 1
Punjab's basketball player Palpreet Singh Brar's journey to the NBA Development League is nothing short of exceptional. Palpreet was introduced to the game at the age of 16 by his father and within a span of six years, the 6 feet, 9 inch cager from Muktsar district broke into the D-League draft, picked by the Long Island Nets.
In the process, Palpreet became only the second Indian basketball player to get selected for the D-League after Satnam Singh Bhamara was signed for the Dallas Mavericks last year. He now plays for Texas Legends.
But unlike Satnam, who had, during his previous visit to India, said that he had no plans to represent the country after blaming the Basketball Association of India for not doing enough to provide basic facilities to the national team, Palpreet would always be available to play for India.
"I'll continue playing for India no matter what," Palpreet told the Indian journalists from Brooklyn via a tele-conference call. "By playing in the D-league, I can improve my game and that will help the Indian team also. Amjyot Singh and Amritpal Singh have been playing in professional leagues. Our experience will help the Indian team."
Palpreet said that there's a huge gulf in the standard of Indian and American basketball. "There is a vast gulf between the Indian and American coaching styles and their training programme. Their grass-root programme is so strong, their talent scouting a class apart. We need to strengthen our grass-root programme. Basketball can grow in India if there's a professional league in place like the IPL or ISL."
Palpreet said that he hasn't set any target for himself.
"The Long Island Nets support staff has been very encouraging and forthcoming. During my first interaction with them, they told me to play freely, not to overburden myself with expectations and goals. I haven't set any timeframe to break into the main league. The effort is to learn and improve my game."
"My defence and fitness level need improvement. Before the tryouts, I went to Kochi for a 45-day physical conditioning camp and later to the John Lucas Academy in Houston to improve my fitness standards."
Palpreet credits his success to legendary coach, late S Subramaniam. "I learnt a lot from him at the Ludhiana Basketball Academy," he said.
Top News
Situation in Sasaram and Biharsharif normal, say police
Notably, Shah's tour of Sasaram in Rohtas district has been ...
The Kabul-born Durani played 29 Tests for India
Bodies of eight persons were found on Friday in a marsh on t...
'Plot to impose President's rule in Punjab'