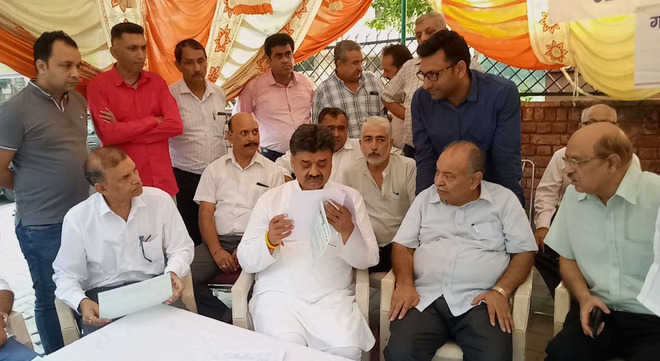 editorial@tribune.com
Tribune News Service
Panchkula, October 16
Former Deputy Chief Minister and Congress candidate Chander Mohan today said if the Congress government came to power in the state, the Seventh Pay Commission would be implemented in Haryana on the lines of the Punjab Government.
Chander Mohan today met various government employees, who apprised him about the shortage of government houses in the city as most them were presently living in private rental accommodation.
Mohan assured employees that he would get adequate number of government houses built for them in Panchkula. Even the existing government houses would be repaired and renovated, he added.
After the formation of the Congress government there would be specific focus on the upliftment of living conditions of employees across the state, especially in Panchkula, which had the largest share of the staff as maximum government offices of Haryana were located in the city, said Mohan.
He expressed his dismay when employees informed him that despite repeated requests and representations their basic need of a decent housing had gone unheard and totally neglected by the sitting MLA, Gian Chand Gupta.
Addressing the people during nukkad meetings at various sectors Mohan said the present BJP government was totally anti-people, anti-trader and anti-employee.
In the last five-year rule of the BJP government thousands of employees were beaten by the police, he added. Every time employees protested for their genuine demands all they have got from the government was tear gas shells and lathi-charge and this was about to change on the 24th of this month, claimed Mohan.
He also held public meetings at Sunderpur, Dhandardu, Majri, Haripur, Abhaipur, Devinagar and Khadak Mongoli villages, besides at Rajiv Colony, 1 Marla Plot Cluster in Sector 20, Ashiana Colony in Sector 20, Madrasi Colony in Sector 21 and Industrial Area.
Meanwhile, Seema Bishnoi and Siddharth Bishnoi during their campaigning for Chander Mohan met scores of young first-time voters and motivated them to come forward and vote for the Congress on October 21.
They apprised people of the vision document of Chander Mohan for Panchkula and assured them that they could finally look forward to overall development of the city, which neglected during the last five years.
Maharaja Aggrasen Youth Club also handed over a letter of support to Chander Mohan. Maharaja Aggrasen Youth Club president Saurav Garg, secretary Varun Jain and Ankit Singla said, "There has been a lot of development in Panchkula during previous terms of Chander Mohan as an MLA." The club also appealed to the people of the constituency to vote and support Chander Mohan.