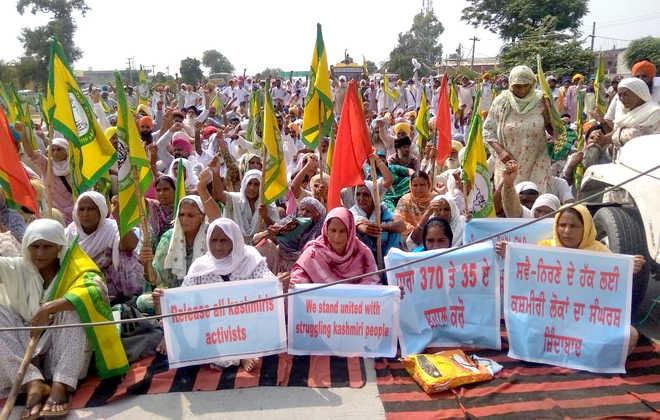 vinaymishra188@gmail.com
Tribune News Service
Bathinda, September 15
Members of various organisation, who were going to participate in a state-level protest in Mohali, were stopped by the police at Bucho Khurd on Sunday. Annoyed over it, the agitating members blocked the Bathinda-Chandigarh highway and staged a protest.
Coming together, members of various organisations had announced to hold a state-level protest against the abrogation of Article 370 in Mohali on September 15. But, the Mohali administration did not give permission to hold the protest.
While addressing the protesters, leaders of various organisations said, "People of Kashmir should be given freedom and right to take their own decision. Restrictions imposed in Kashmir should be removed. The Army should be called back and AFSPA should be repealed. Besides, leaders and people, who have either been detained or arrested, should be released."
They said on the directions of the state government, the police stopped them midway from reaching Mohali.
The leaders said, "The state government's move has exposed the double standards of the Congress as for votes, it expressed solidarity with people of Kashmir. But on Sunday, its government did not give permission to hold a protest in support of people of Kashmir."
During the protest, commuters faced a lot of problems as traffic was diverted towards link roads. Besides, a protest march was also taken out and an effigy of Union Government was also burnt in Rampura. The Bathinda unit of the Association For Democratic Rights (AFDR) condemned the government for not giving permission to hold protest in Mohali.
The AFDR termed the move of the government a "violation of the democratic right of people to self expression". Bagga Singh, district president of AFDR, said by imposing a ban, the government had not only curbed the independent voice of people but also disturbed the public life by deploying a large number of police personnel for stopping members of various organisations from reaching Mohali.
Members of Punjab Khet Mazdoor Union, BKU (Ekta Ugrahan) and Naujawan Bharat Sabha were present on the occasion.