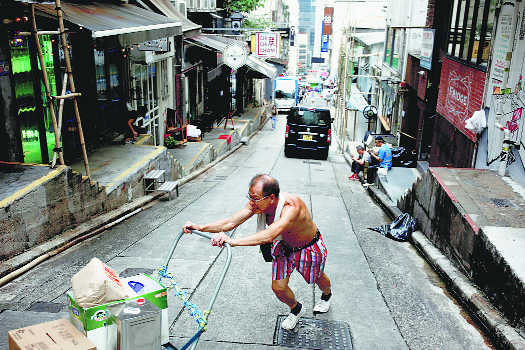 ROBINSINGH@TRIBUNE.COM
Hong Kong, August 19
China lashed out at Taiwan today over its offer of political asylum to participants in Hong Kong's pro-democracy protest movement, a day after hundreds of thousands of people marched peacefully in the latest massive demonstration in the Chinese territory.
The government of Taiwan, a self-ruled island that China considers its own territory, strongly supports the protests, and Hong Kong students in Taiwan have held events over the weekend expressing their backing. Taiwan's President made the asylum offer last month, though it's not clear if requests have been received.
Taiwan lacks a formal legal mechanism for assessing and granting asylum requests although it has granted residency to several opponents of the Chinese Government.
On Monday, Ma Xiaoguang, spokesman for the Chinese Cabinet's Taiwan Affairs Office, said Taiwan's offer would "cover up the crimes of a small group of violent militants" and encourage their "audacity in harming Hong Kong and turn Taiwan into a "heaven for ducking the law."
Ma demanded that Taiwan's government should "cease undermining the rule of law" in Hong Kong, interfering in its affairs and not "condone criminals." Organisers said at least 1.7 million participated in Sunday's Hong Kong rally and march, although the police estimate was far lower.
The police said the protest was "generally peaceful" but accused a large group of people of "breaching public peace" afterwards, occupying a major thoroughfare and using slingshots to shoot "hard objects" at government headquarters and pointing lasers at police officers.
Demonstrators' frustrations over what they perceive to be the government's blatant refusal to respond to their demands boiled over last week with the occupation of Hong Kong's international airport, during which a reporter for a Chinese Communist Party-owned newspaper was assaulted. — AP
Warns Canada to stop meddling
Toronto: China's embassy in Ottawa has warned Canada to stop meddling in Hong Kong's affairs. A spokesman wrote on the embassy website, saying "the Canadian side should be cautious with its words and deeds." Canada and the EU had on Saturday stated that the right of peaceful assembly was enshrined in Hong Kong's basic law. Relations between Canada and China are at their worst since the Tiananmen Square massacre in 1989. AP
Top Stories