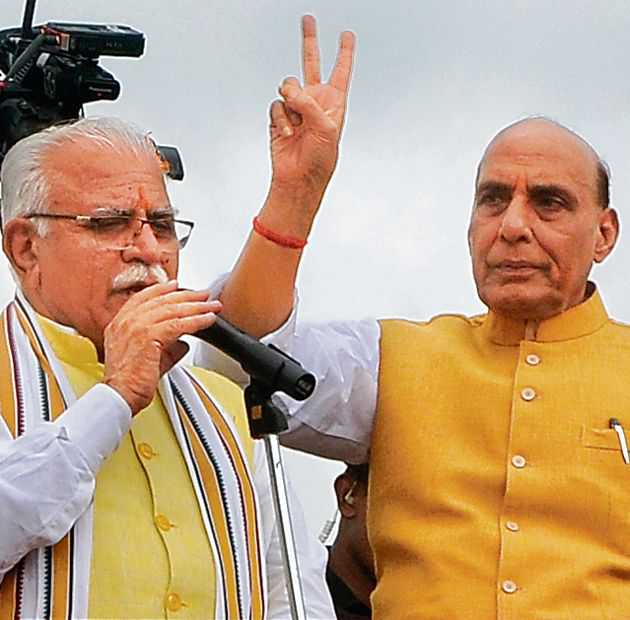 harinder@tribunemail.com
Pradeep Sharma
Tribune News Service
Chandigarh, August 18
Ruling out parleys with Pakistan till it stopped aiding and abetting terrorism, Union Defence Minister Rajnath Singh today said talks, if any, would be held with the neighbouring country only on Pakistan-occupied Kashmir (PoK).
"Jammu and Kashmir is non-negotiable. If talks are ever held with Pakistan, these will be on PoK," he announced at a rally before flagging off BJP's "Jan Ashirwaad Yatra" at Kalka, 30 kms from here.
Referring to the abrogation of Article 370 which accorded special status to Jammu and Kashmir, he observed, "Our neighbour (Pakistan) is knocking at the doors of the international community, claiming that India has made a mistake."
The Defence Minister categorically stated that the abrogation of Article 370 was "non-negotiable" as bifurcation of the state had been done purely for development. Claiming that Pakistan had been isolated internationally on the Jammu and Kashmir issue, he said even the world's most powerful country had snubbed Pakistan, advising it to initiate talks with India on all outstanding issues.
"A few days back, Pakistan PM Imran Khan told his country that India was planning action even bigger than Balakot. Even he acknowledges what India did in Balakot," Rajnath said, stressing the government's action was to safeguard the country's unity and integrity and was not an 'election stunt.'
Batting for a second term for Haryana Chief Minister Manohar Lal Khattar, he said the latter deserved another term for ushering in unprecedented development and providing a transparent and corruption-free administration.
The "Jan Ashirwaad Yatra', to be undertaken by Khattar in the run-up to Haryana's Assembly elections, will criss-cross the state's 90 Assembly constituencies and conclude with a rally at Rohtak on September 8 which would be addressed by PM Narendra Modi.
Senior BJP leaders, including state election in-charge and Union Agriculture Minister Narendra Singh Tomar, Haryana BJP affairs in-charge Anil Jain, Union Ministers KP Gurjar and Rattan Lal Kataria besides Haryana ministers attended the rally.
Top Stories