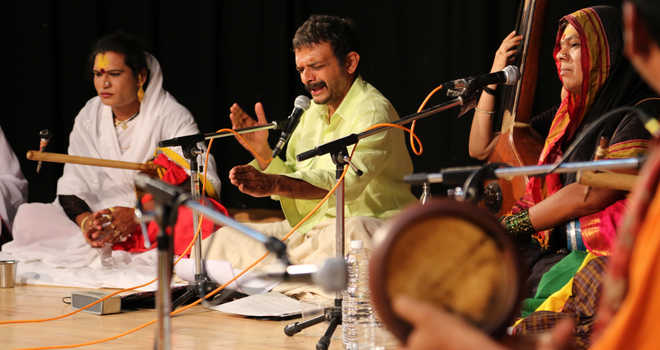 singhking99@yahoo.com
Neha Kirpal
Artists do not seek answers; they seek more questions and challenge everything that is just accepted without feeling or thought, says Carnatic vocalist TM Krishna. And you can only nod in agreement, for he has been doing so — both in his music and in his activism. In the launch of his own music festival to "push out caste elitism from the existing Carnatic music system", in his collaboration with the Jogappas, members of a traditional community of transwomen musicians, in his recent rendition of Agha Shahid Ali's Postcard from Kashmir… Excerpts from an interview:
You recently performed with the Jogappas as part of Delhi Government's Awam Ki Awaz series. Tell us about the collaboration.
The Jogappas and some of us Carnatic musicians have been working on this musical conversation for a few years now. It is a dialogue between different people, cultures and sexualities. We share a stage together and make music, and do hope that through this we can enable multiple dialogues about equality, respect, marginalisation and celebration of multiple diversities. The recent concert, organised through the Solidarity Foundation, was a step in that direction.
You recently recited Agha Shahid Ali's poem Postcard from Kashmir to protest the communication blackout in Jammu & Kashmir. What were you thinking?
I was and I am deeply disturbed by what the Indian government has done in Kashmir. We have behaved like bullies and rowdies, forcing people to remain silent, disconnected them from everyday life and made them prisoners in their own land. Even worse has been the official justification for what is an undemocratic and unconstitutional act. The Opposition, too, has been so meek in its response pandering to majoritarian politics. What hurt the most was what I saw around me. When so many people found such draconian action morally correct, I was quite shattered. A friend sent me the poem and the recitation came out of this state of mind.
You have often said and reiterate in your book Reshaping India that Indian art forms are dictated by ideas of caste and religion. How can art be made accessible to all?
There are many ways this can be done, but the most important aspect of making art that belongs to everyone is for art itself to become reflective. Art cannot just be a pleasure provider. It has to turn and look at itself, its fissures, ugliness and underbelly. Artists must become transparent to themselves and question their own being. Only if this happens can art really be accessible, equal.
Tell us about your song Poromboke, which means an unbuilt open space that belongs to the community.
The song has many layers to it. Frontally, it raises the issue of the environmental crisis in North Chennai and the suffering of the fisherfolk around the area. Ennore, the suburb that the song speaks of, has been ecologically destroyed because of the avariciousness of governments, private companies and we the citizens of South Chennai. The Chennai floods further highlighted this fact.
The song is also about culturally reclaiming the word 'poromboke'. Today, this is used as a curse word meaning 'good for nothing' and 'useless'. What it actually means is 'common' — that which belongs to everyone and must be shared by all. Thirdly, the song brings together two separate cultural worlds for the first time ever in Indian music — the lingua franca of the common person and classical music.
You are working on another book, Sebastian and Sons. Tell us about that.
This book traces the life, work and journey of the makers of the mridangam, most of them belonging to marginal sections of society. It is centred around a Dalit Christian family that has been at the epicentre of mridangam making for six generations. It looks at the social as well as political complexities and celebrates them as great makers, innovators and technologists.
What, according to you, are the roles and responsibilities of musicians and artists in society?
An artist's job is to ask serious questions of themselves and all that they see around. They do not seek answers; they seek more questions and challenge everything that is just accepted without feeling or thought. An artist has to be acutely political.
Do we see you in politics some time?
My only hope is that I remain honest and true irrespective of what I do.
All readers are invited to post comments responsibly. Any messages with foul language or inciting hatred will be deleted. Comments with all capital letters will also be deleted. Readers are encouraged to flag the comments they feel are inappropriate. The views expressed in the Comments section are of the individuals writing the post. The Tribune does not endorse or support the views in these posts in any manner.
Top Stories