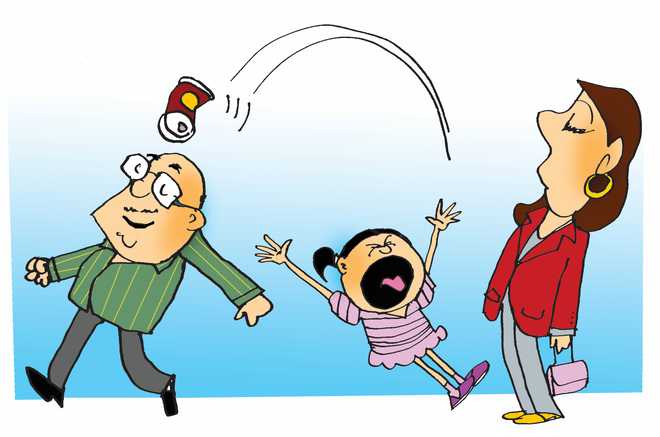 singhking99@yahoo.com
Aradhika Sharma
Here's an honest confession. While I'm aware that in modern times we're not supposed to raise our hands or voices at children, but there's something about spoilt, selfish brats that makes my hand itch to connect with their tantrum-filled faces. Unfortunately, the breed of spoiled brats seems to be proliferating! You can find them screaming and racing in the corridors of Shatabadi, lying on the floors of malls, thrashing their limbs around in paroxysms of tsunami-like tantrums, being rude and demanding with the staff. Or scratching and biting their moms when they try to control them.
Remote controlled
In the office cafeteria, I heard a group of young mothers discussing the relative merits of Sponge Bob Square Pants versus My Little Pony or Doraemon. When I expressed my surprise at their choice of shows, they laughed and said, "Our kids control the TVs, you know. They refuse to eat food if we don't switch on TV for them or give them our iPads or mobiles to play with. It's too much of a struggle to try and watch your own show. So, we end up watching their favourite shows."
Me: Well, this generation has iPads, Internet, mobile phones and laptops to play with. When we were kids we had only one thing: outside.
Mother 2: "Arre! At least they're eating their food. Who has the patience to insist that they eat at the dining table? Mostly, I'm too exhausted to even try."
Me: "But what of discipline and training?"
Mother 3: "Poor things! They've been with the maids all day long. It's not fair that we start scolding them when we're back from work. Is it?"
Mother 1: "They can learn discipline when they grow up. Right now, we want to create happy childhood memories for them."
My thought: Yeah! But do remember that when you finish with your kids, the rest of the world must live with them!
Having a fling
Salesgirl: Excuse me, madame, but is that your son throwing all the cereal boxes off the shelves in the store?
Mom (indulgently): Awww, baby, don't do that. See, auntie is getting angry.
Child looks mutinous and spits at his mom.
Mom laughs, lifts him and kisses him: Naughty boy!
Setting examples
The other day, I visited a crafts and culture exhibition. The child walking ahead of me finished drinking coke from a can and then flung the can on the ground. Picking it up, I hurried after him and said: "Hello dear, you dropped this. Why don't you trash it in the dustbin?" His mother took the can from me, looked at me straight in the eye, and hurled it back on the ground! "Ye lo!" she said triumphantly.
I must admit that I'm getting increasingly intolerant of spoilt brats and more so of the parents who created them. We talk so much of leaving a better earth for our kids. How about leaving better kids for the earth?
All readers are invited to post comments responsibly. Any messages with foul language or inciting hatred will be deleted. Comments with all capital letters will also be deleted. Readers are encouraged to flag the comments they feel are inappropriate. The views expressed in the Comments section are of the individuals writing the post. The Tribune does not endorse or support the views in these posts in any manner.
Top Stories