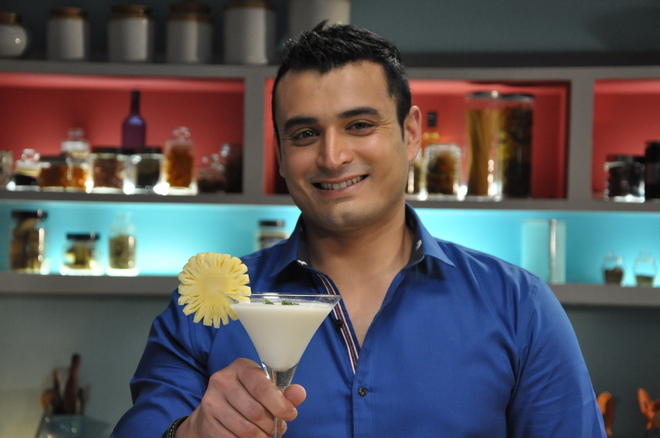 editorial@tribune.com
Amarjot Kaur
He learnt from his mother the art of cooking. And guess how far has it got him now? Kolhapur's very own Rishikesh Desai (known as Rishi) was one of semi-finalists in Masterchef Australia 2013 (Season 5) and now will be seen on TLC with his new series Stay-Home-Chef!
Rishi has a strong pedigree as he takes after his mother Uma Desai, a well-known food entrepreneur who runs Gruhini Vastu Bhandar and is famous for her Kolhapuri Bakarwadi. A student of Vidyapeeth High school, he went on to study polymer engineering from MIT, Pune, and completed his Masters from Rochester Institute of Technology, USA. "Cooking, I guess, came naturally to me. It is one of the most engaging pursuits that I learnt from my mother, who is my role model," he says.
Rishi has travelled around the world and is now settled in Australia. An Assistant Director with an Australian public service agency, he works in the field of patents. "I am fascinated with the diversity of food and have tasted food prepared by people of various cultures during my travels," shares Rishi.
A versatile cook with various culinary styles such as Indian, European, Mediterranean and Asian cuisines in his repertoire, Rishi feels that the show was a good platform for him to explore different cuisines. "I will be preparing some nice Indian food with an international touch using readily available ingredients in your own kitchen," says Rishi, who is also an author of a book titled 'Modern Indian'. He has been one of the most popular contestants to appear on the show, loved by the audiences, fellow contestants and judges alike. Rishi is passionate about demystifying Indian cuisine and cooking with spices.
"Australia has a huge food culture and we have a lot of influence of the European, Chinese and Eastern cuisines. So, when I try something out at a restaurant or any other place, I try and replicate the flavours, which has made me hone my cooking skills," he says.
While talking about the show, he says each episode is based on a particular theme and all the recipes will have a modern Indian twist to them. Rishi adds, "It is a great opportunity for all to impress friends and surprise families with restaurant style food that I prepare on the show. I have tried to combine concepts from India to Europe and Middle East."
In the show, Rishi will be seen preparing low-calorie dinner while whipping up a delicious three-course low-calorie meal with Zucchini Fritters and Salsa, Keema Koftas with Rice and Minted Yoghurt Souvlaki, and Blueberry Muffins with fresh Berry Jam. Also, he will be seen adding an international twist to the regular Indian food with Tandoori Chicken and Rice Salad, Kolhapuri Goat with Cauliflower Purée, and hot Gulab Jamun with Pistachio Praline.
amarjot@tribunemail.com