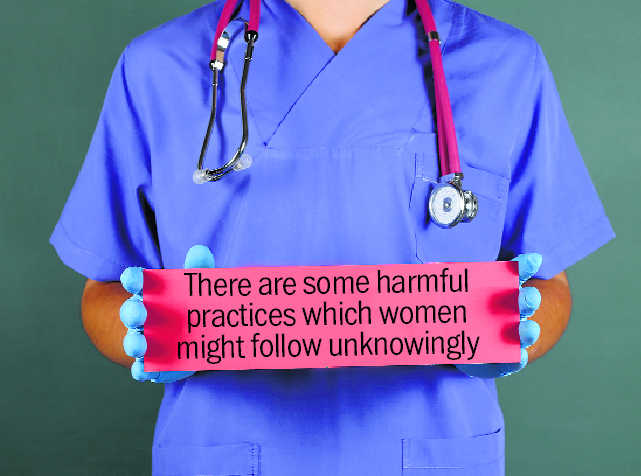 singhking99@yahoo.com
Dr Rita Bakshi
Most gynaecologists often see patients repeating some common mistakes over and over again. Women should put a full stop to doing these mistakes for their own good!
Here is a list of things that a gynaecologist wishes you to stop doing (ASAP).
Using unnecessary feminine hygiene products: Keeping your private parts clean is important, but so is to choose your feminine hygiene products wisely. There are a lot of over-hyped deodorant sprays, soaps, washes, powders, etc. available in the market that can lead to irritation or allergic reaction. When used around your vaginal area for a long period, some of these products may even lead to high bacterial and yeast overgrowth. Stop using such products if you value your health and hygiene.
Douching: Another common practice among young women is douching, i.e. cleaning the vagina with a mixture of fluids. It is important to understand that your vagina can naturally perform a great job of cleansing itself of blood, semen, or any discharge. Medical evidence suggests that excessive douching can up your risk for getting pelvic inflammatory disease and various types of bacterial infections, vaginal dryness, as well as preterm birth (if you are pregnant)
Consulting 'Dr' Google: If you have problems like vaginal itching, frequent urination, etc., it is okay to Google it for basic information about the problem. But don't be convinced that you have some medical problem and start self-treating with the help of 'Dr' Google. Always visit a doctor for proper medical advice, diagnosis and treatment.
Cancelling your appointment because it's "that time of the month": There is no need to cancel your gynaecologist appointment because you are on your period and experiencing bleeding and uncomfortable symptoms. New-age pap smear techniques help doctors get more accurate results when women are on their periods. Even if you're tempted to, it's better not to reschedule the appointment, unless your doctor tells you.
Don't be afraid and/or embarrassed to ask or answer questions about your sex life: In our country, considering the huge stigma, opening up about sex and related subjects is never easy for women. However, it is important to understand a gynaecologist will not pass judgment based on your sexual preferences, nor will they mind talking about seemingly awkward sexual health issues. On the contrary, they want you to ask questions about dealing with painful sex, intercourse, your partner's issues (if any), etc. Even if you are too shy to ask questions, make sure to answer these in an unhesitant tone when your doctor asks. Remember, your gynaecologist is there to help.
Suffering in silence during PMS or other vaginal discomfort/pain: PMS (pre-menstrual syndrome) is a combination of physical and emotional problems that leads up women to the start of their period cycle. While the symptoms of PMS are mild amongst the majority, it may be severely depressing and bothersome in some. If you're experiencing painful cramps, crazy mood swings and cravings, or unbearable anxiety or depression, do not just decide to put up with it and keep things to yourself. Tell your gynaecologist all about that. Also if you are feeling any prolonged pain, irritation, discomfort that may or may not be related to your periods, PMS or even pregnancy, consult your gynaecologist ASAP.
Withholding medical/genetic history: Your gynaecologist needs to know about the medical/genetic history of you and your family members so as to recommend you for the screening of uterine cancer, breast cancer, PCOD and even cardiovascular disease, thyroid disorder etc., as well as to assess the risk of miscarriage and other pregnancy issues. So, do not lie to the doctor or withhold information and medical records. If there's a new update (like your paternal uncle getting a heart attack), inform this to your gynaecologist as well.
Worrying about your grooming habits: Whether you've had a Brazilian wax or have or have not shaved your legs for long, it doesn't really matter to us as doctors. Stop worrying and/or being apologetic to your doc for how you choose to groom yourself. However, grooming/trimming is necessary, especially in Indian summers as keeping the area dry and clean is important. Some sweating is normal but excessive sweating may cause irritation, itching, bacterial and yeast infections during the summer and monsoon.
—The writer is a New Delhi-based gynaecologist-obstetrician and chairperson, International Fertility Centre
Cities