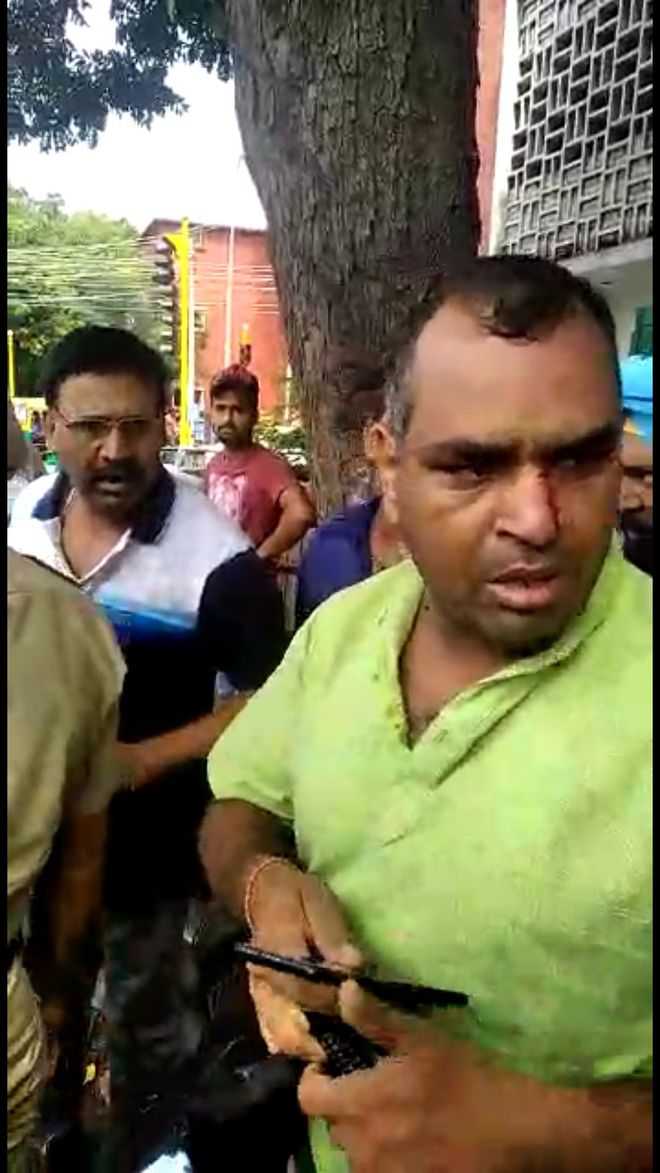 editorial@tribune.com
Tribune News Service
Chandigarh, September 14
A high drama was witnessed near Kiran Cinema light point in Sector 22 here today when a cop and a biker roughed up each other over a traffic violation of pillion rider sans helmet.
A video of DSP (Traffic) Sukhwinder Pal Singh Sondhi and Shivnath, 32, of Sarangpur village, who is a nursing officer at the PGI, having a heated exchange went viral on the social media.
Shivnath, who was going to attend a parent-teacher meeting with his two children and wife on a motorcycle, claimed that he was physically assaulted on the neck and hands by Sondhi, the charge the latter denied.
The DSP said the incident occurred around 11:15 am. As the traffic lights turned red, Sondhi's car stopped by a bike. While the driver was wearing a helmet, his wife and two children, aged 4 and 10, who were riding pillion, were without the headgear.
Sondhi claimed, "I asked the man to buy helmets for his wife and children as their safety was equally important. He told me he did not have money to purchase helmets. When he was asked to show documents of the bike, he refused to do so."
"The man held my collar while I was in my car. His wife urged him to show documents but he didn't. My gunman had to intervene to keep him away. As I opened the door of my car, it hit his helmet and he suffered an injury on nose," he added.
The PGI Nurses Welfare Association later alleged that DSP Sondhi wanted to jump the red light but Shivnath came in his way. Even as the nursing officer gave him the passage, the cop assaulted him, the association alleged in a press note.
Both the DSP and the man lodged complaints against each other at the Sector 17 police station and underwent a medical examination at the GMSH in Sector 16. However, no FIR was registered yet.
"The FIR has not been lodged against the cop. In case he is not made to face the legal consequences, members of the nursing the association will lodge a protest," said Satyaveer Dagar, general secretary, PGI Nurses Welfare Association.
Meanwhile, SSP Traffic Shashank Anand said, "I have requested the local police to send a factual enquiry report. We will take impartial action on the basis of it."
Cities