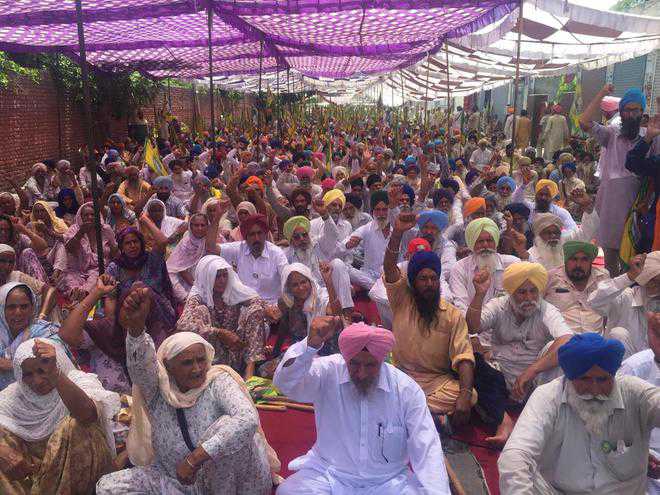 editorial@tribune.com
Parvesh Sharma
Tribune News Service
Sangrur, May 31
Belying claims of the state government on debt waiver, 66 farmers, 19 labourers and six women have allegedly committed suicide across the state in the past two months due to mounting debt.
Leaders of the BKU Ugrahan today released the list with addresses and reasons behind suicide, accusing the government of giving wavier to selected persons.
According to the list prepared by the special committee of the BKU Ugrahan under the supervision of its Sunam block press secretary Sukhpal Singh Manak, 20 farmers committed suicide in Sangrur, followed by Patiala (11), Mansa 10, Bathinda nine during the past two months.
"The debt waiver claims of the state government are only on papers. My husband committed suicide in 2013 as he was under a debt of Rs 7 lakh, but I have not got any waiver, not even a single penny," alleged Satwant Kaur, a widow coming out from the Sangrur DC office.
Many other farmers levelled the same allegations and demanded a high-level audit of waiver given by the government.
"We have formed a committee of our leaders. We collect all reports related to farmer suicides from all newspapers and keep compiling that every month. Though we release the list every month, we could not release it last month due to elections. As many as 91 suicides took place in the state from April 1 to May 31," said Mank.
BKU Ugrahan president Joginder Singh Ugrahan alleged that the state Congress government had cheated state farmers by not giving complete debt waiver.
"Before the 2017 Assembly elections, Chief Minister Capt Amarinder Singh had promised to give a complete debt waiver, but after the formation of his government, he gave partial waiver, which is not acceptable," said Ugrahan.
Cabinet Minister Vijay Inder Singla, who is also Sangrur MLA, said the Congress government had taken a big step for the welfare of farmers by giving waiver.
"More schemes to help farmers are being prepared by our government as the Congress has always taken best possible steps to help farmers," said Singla.