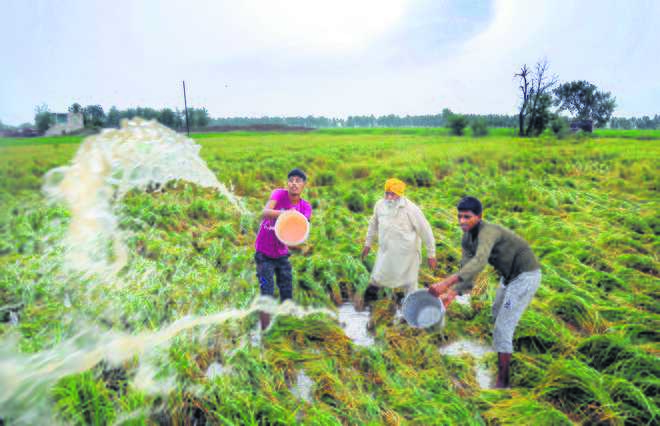 laxmi@tribune.com
THE Punjab farmer is responsive to even fine changes in crop productivity and uses this resolving ability to optimise varietal and management choices. This also makes the Punjab farmer quick in recognising yield dips and fluctuations. It is this focus of individual farmers on yield that translates into consistent food grain production of the state. Rice harvest in Punjab for the current season is almost over and general observations and trends have emerged. A yield reduction compared to last season (2017), which had witnessed a record productivity, is evident from farmers' feedback as well as specifically collected yield data. About a quarter of crop cutting experiments have been analysed by the Department of Agriculture and Farmers' Welfare. Data from experiments at Punjab Agricultural University (PAU) research farms and demonstrations at Krishi Vigyan Kendras (KVK) are also being compiled. The data available so far point to a significant yield drop, mostly in the range of 1-3 quintal per acre compared to the last year.
A second issue relates to delay in ripening and high grain moisture. Importantly, both the trends are observed across varieties, regions and sowing dates with minor variations. This is suggestive of influence of weather conditions, common to large parts of the state, during this crop season. The issue of yield reduction has generated wide discussion and concern among farmers, researchers and policy makers. In this context, a data based preliminary analysis of the situation has generated some scientific insights, which need to be considered. Otherwise an anomalous season (as we later show 2018 to be) may vitiate our long-term perspective and strategy. Therefore, a broad analysis of weather conditions during 2018 and their impact.
Weather conditions
The early part of the rice season (June and July, 2018) was wetter than last year (see the table that gives the weather data from PAU observatory).
During Kharif 2018, July showed a major increase in precipitation in four of the five agroecological zones of the state. Higher cloud cover was observed throughout the state during the rice vegetative phase. The reduction in sunshine hours seems to have imposed a significant stress on the crop throughout the state, including South Western districts where rainfall was lower than other districts, but much higher than the rain received in the previous year.
Reduced sunshine hours are known to cause slight increase in plant height. The stress also hastens onset of flowering. More importantly from yield point of view it leads to reduction in tiller number. All these three changes were observed in the experiments conducted in the Rice Section of Department of Plant Breeding and Genetics, PAU, Ludhiana (see the table) and Regional Research Station, Kapurthala. The corroboration of weather parameters with morpho-physiological changes observed in the field seems to confirm the prevalence of radiative stress, caused by reduction in sunshine hours during the vegetative phase of 2018 season. As this stress affected the early growth phase, its impact is expected on all varieties, irrespective of whether they are short or long duration. If the weather events, late in the season were more crucial to the observed decline, some varieties would have escaped due to wide differences in phenology. As this did not happen to a significant extent, an early phase weather anomaly is likely to have played a pivotal role.
Grain development
The start of the anthesis phase in short, medium and long duration varieties in different parts of Punjab started from last week August and continued up to last week of September. During the last week of September (22-24 September, 2018) heavy rainfall was received in most of the districts. This rainfall was also accompanied by strong winds in some of the districts. These conditions imposed a physical stress to the developing grains thereby curtailing thousand grain weight. For lines at anthesis stage during the heavy rainfall episode, sterility was also observed. The heavy rainfall and strong winds caused lodging of the paddy especially in the tall varieties at many places. On account of predisposing weather conditions, the incidence of false smut was reported in several parts of the state. These conditions imposed a ceiling on the yield particularly of longer duration, high yielding varieties.
The widespread heavy rainfall during 22-24 September, 2018, followed by more showers after 3-4 days, led to fall in maximum temperature (4-5 degree C or even more on several days) up to mid October in the state. The fall in minimum temperature, however was comparatively less and inconsistent. The diurnal range of temperature decreased significantly. The low maximum temperature conditions lowered photosynthetic activity during day time but the high minimum temperature increased the respiratory losses in the plants. Such thermal stress conditions directly lead to reduced translocation to the grain and reduction in grain weight and consequently the grain yield (see the table). Floret sterility and reduced grain weight was widely prevalent at farmers' fields as well as experimental plots. Besides losses in yield components, the late season rains and sharp dip in temperature caused a marked delay in ripening and resulted in high grain moisture content. The latter events need to be seen independent of yield reduction and not as its cause.
In conclusion inclement weather during pre-flowering as well as post-flowering phase imposed a significant yield loss on the crop. It needs to be appreciated that both the events, i.e., reduction in sunshine hours during early phase and heavy rain concentrated in a single episode late in season are major departures from normal. This combination of pre as well as post flowering aberrant weather events is rare (with probability of once in several decades) and indicative of climate change phenomenon.
Impact of transplantation
Research based enactment of the Preservation of Sub-soil Water Ordinance/Act, Punjab,2008/2009) permits paddy transplantation from June 10. This was revised to June 15 in 2014 without causing any yield handicap. Rather successive record yields were observed in 2016 and 2017. During these years, still shorter duration varieties became available, offering the opportunity of shifting the transplanting start date further close to monsoon onset. The transplanting date was revised to June 20, 2018. This season was thus the first season under this regulation. Many people are finding it convenient to ascribe this year's yield reduction to this five day delay in transplanting. All our experiments in the foregoing years have shown this shift to be a win-win option in terms of productivity and water saving. The impact of the new regulation on actual transplanting date can be visualised if we look at percentage of area transplanted during different segments of June month. During 2017, 38 per cent of parmal rice was transplanted before June19 while 58 per cent was transplanted from June 20-30. During 2018 about 4 per cent parmal rice was transplanted before June 19 while 84 per cent was transplanted from June 20-30. The parmal rice transplanted in July increased from 4 per cent in 2017 to 12 per cent in 2018. This July sowing may be considered to be the main shift with regard to delay and it covers a small proportion of parmal rice area. With respect to basmati rice, no significant shift in transplanting dates was evident over the two years. With this background let us look if there is any evidence linking shift of date to lowered productivity:
The observations from experiments in Rice Section, Department of Plant Breeding and Genetics, PAU Ludhiana and PAU Regional Research Station, Kapurthala, on date of transplanting indicate a dip in yield of rice during 2018, under all dates of transplanting (June 20, June 27 and July 5) as compared to 2017 (see the table). The data indicate that rice transplanted on June 27 gave the highest yield during both the years and dip in yield over last year was almost similar under June 27 and July 5 transplanting date.
Data from farmers' fields from eight villages in Muktsar Sahib transplanted on early dates, i.e., between 10-20 June also gave lower yield than that obtained during Kharif 2017. Thereby, indicating that the yield reduction is across the transplanting dates. Moreover, there are also reports of yield reduction from our neighbouring state, Haryana, where transplanting start date was June 15.
In general, all varieties were negatively impacted this season. The adverse impact extends from the shortest duration variety PR 126 to the longest duration variety Pusa 44. PR 114 was less impacted and even showed yield improvement at some places over last year. This resilience seems to be a varietal attribute.
While we continue our investigation of factors responsible, some conclusions can already be made. Lowered productivity is readily explained by the relatively rare weather anomalies observed during the season. It would be totally unscientific to hold the five day shift in transplanting date responsible for yield reduction. The actual shift in date has been relatively small, with a further clustering of transplanting events (from 58 per cent to 84 per cent in 20-30 June segment) being more evident. Thus, even the delayed ripening is attributable more to a sharp fall in temperature than transplanting date. It would be irrational to roll back the water saving intervention of 20th June as transplanting start date.
— Writers are scientists, Punjab Agricultural University. With inputs from PAU experts Rajesh Vashisht and KS Thind
Top Stories