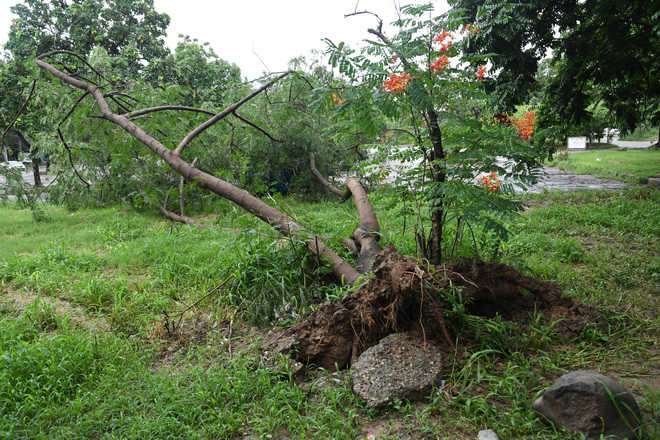 ROBINSINGH@TRIBUNE.COM
Tribune News Service
Chandigarh, August 18
Heavy rain affected the power supply to many sectors today. The outage was caused by a snag that developed after branches of trees fell on electricity wires.
The Electricity Department snapped the power supply to many areas as a precautionary measure to avoid any mishap while carrying out repair works. The affected areas included Sector 17, 18, 19, 23, 24, 25, 30, 31, 32, Burail, 37, 38, 39 and 40, and several villages. Residents of Sector 30 A went without power for over 12 hours. Residents said the power supply was disrupted around midnight yesterday and was restored in this afternoon. The power supply was affected at Panjab University, Punjab Engineering College and the PGI residential colony for hours.
The agony of residents increased with phone lines of complaint centers remaining busy throughout the day. Some of the areas where residents went without power for several hours included Mauli Jagran, Dhanas and Daria.
Rakesh Kumar, a resident of Dadu Majra, said he was not able to get in touch with the complaint centre as the phone remained busy throughout the day.
An official said incessant rain made it difficult for them to restore the supply. Over 200 complaints were filed at complaint centres of various sub-stations during the rain.
---
City gets 91 mm of rainfall, expect more
Chandigarh: The Met Department said light to moderate rain was expected to continue on Monday as well. According to Met officials, rain is likely over the next three days. However, it is more likely to rain on Monday. It will further bring the mercury down in the tricity. Chandigarh received 91.0 mm of rainfall on Sunday. TNS
Top Stories