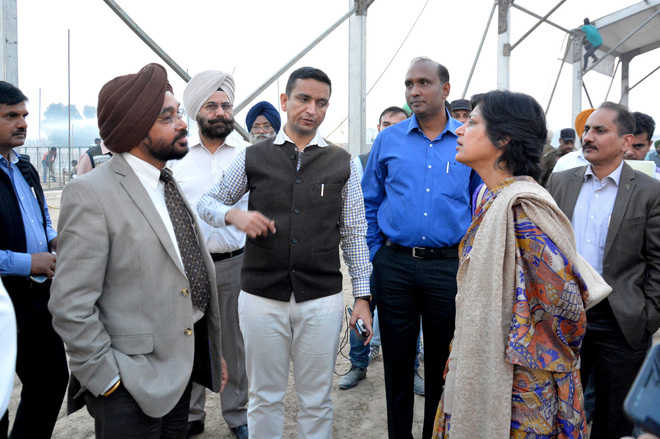 editorial@tribune.com
Tribune News Service
Bathinda, November 22
Girls of government schools will be vaccinated against HPV (human papilloma virus) tomorrow and day after under the HPV vaccination project of state government that will be inaugurated tomorrow at Mother and Child Hospital, Bathinda.
Under the project, around 2.2 lakh Class VI girl students of all government schools across the state will be vaccinated in the current academic year against cervical cancer.
The vaccination programme will begin from Bathinda and Mansa from tomorrow as these districts have high incidence of cervical cancer.
The percentage of cancer in Bathinda is 17.5 per cent while in Mansa it is 17.3 per cent against the national average of 12.4 per cent.
The vaccination reduces the chances of this cancer. Around 10,000 girls of government schools from Bathinda and Mansa will be vaccinated.
Around Rs 7.5 crore in the current fiscal and another Rs 15 crore in 2017-18 will be spent on vaccination to protect these girls with the second dose in the state, which is required at a gap of six to 12 months.
Besides, the next group of Class VI girl students will also be vaccinated with the first dose during 2017-18.
"The sole motive of the programme is to cover the girls from 9-13 years of age to prevent cervical cancer. Every year nearly 250,000 women die of cancer globally. India is the largest contributor to these deaths with estimated 67,000 deaths in a year and accounts for approximately one death every eight minutes. It is the second most prevalent cancer (after breast cancer) in Punjab. The vaccination is procured by the Punjab Government through UNICEF. The vaccination will be carried out at CHCs (community health centres/sub-divisional hospitals and district hospitals under the supervision of medical officers. Subsequently, the state also plans to cover all school girls in government and private schools studying in Class VI and the drop-out girls in the age group of 11-12 years," said Director of Health and Family Welfare, Punjab, HS Bali.
Bathinda Civil Surgeon Dr RS Randhawa said, "The second dose will be given next year to these students. Private hospitals charge around Rs 4,000 per dose but the government is providing it free of cost."
According to National Centre for Disease Informatics Research and National Cancer Registry Programme reports, incidence of cervical cancer is highest in Bathinda 17.5 per cent followed by Mansa 17.3, Faridkot 14.6, Sri Muktsar Sahib 12.7, Mohali 12, Sangrur 11.1, Moga 10.2, Fatehgarh Sahib 10, Amritsar 9.7, Ludhiana 9.4, Jalandhar 9.1, Roop Nagar 8.1, Kapurthala 8 and Hoshiarpur 7.3 per cent.
Visit to aiims site
Additional Chief Secretary JS Sandhu and Principal Secretary, Health and Family Welfare, Vini Mahajan on Tuesday made a visit to the AIIMS site in Bathinda for which the foundation stone will be laid on November 25 by Prime Minister Narendra Modi. However, Vini Mahajan will also remain present during the launch of the HPV vaccination programme in Bathinda on Wednesday.