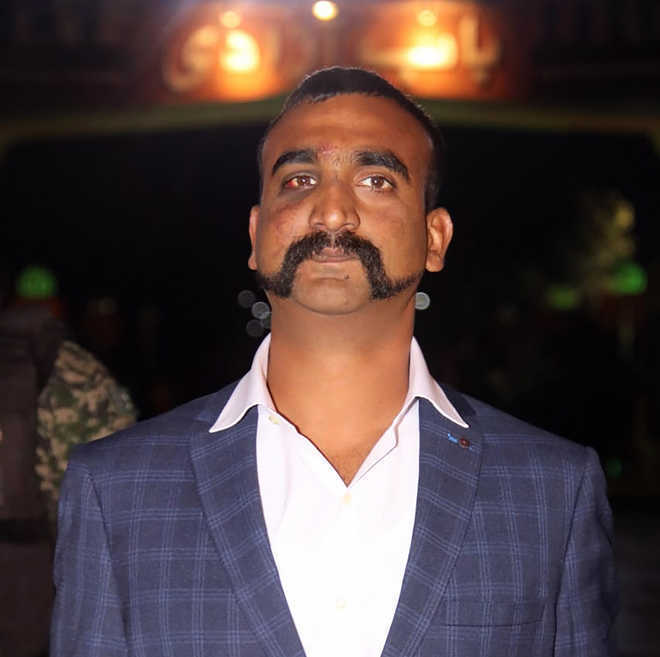 laxmi@tribune.com
Tribune News Service
New Delhi, August 14
Wing Commander Abhinandan Varthaman, who chased PAF jets into Pakistan and shot down one of them on February 27, has been awarded the Vir Chakra, the country's third highest battle honour.
The Indian Air Force and Pakistan Air Force were locked in an air duel over Noushera in Jammu and Kashmir when Wg Cdr Varthaman chased PAF jets and shot down an enemy fighter jet before being himself shot down. He was captured by Pakistan and returned 48 hours later.
The Ministry of Defence announced the military awards on the eve of Independence Day celebrations. President Ram Nath Kovind, who is also the Supreme Commander of the armed forces, has approved 132 awards to armed forces personnel and members of the paramilitary forces.
From the Army, Sapper Prakash Jadhav of the Rashtriya Rifles will be posthumously awarded Kirti Chakra, the second highest peacetime gallantry award. Harshpal Singh, Deputy Commandant CRPF, has also been awarded Kirti Chakra.
Squadron Leader Minty Agarwal, who hails from Ambala and played a key role as flight controller during the aerial combat between India and Pakistan on February 27, has been awarded the Yudh Seva medal. She was the one reading the radar picture, imagery from airborne UAVs and directing the fighter jets to attack or evade. She was based out of an IAF control room in North India.
Seven IAF pilots have been awarded the Vayu Sena Medal for gallantry, including six 'Balakot bombers'. On February 26 around 3.30 am, a team of Mirage fighter jets had dropped Spice 200 guided bombs at a Jaish-e-Mohammed training camp at Balakot in Pakistan. This team is based at Gwalior.
The IAF has refused to officially identify the 'Balakot bombers' to protect their identity, however, a source identified the team as Group Captain Saumitra Tamaskar, Wing Commander Pranav Raj, Squadron Leader Rahul Basoya, Squadron Leader Pankaj Arvind Bhujade, Squadron Leader B Karthik Narayan Reddy and Squadron Leader Shashank Singh.
The awardee list includes 14 Shaurya Chakras, eight Bar to Sena Medals (Gallantry), 90 Sena Medals (Gallantry), five Nao Sena Medals (Gallantry), seven Vayu Sena Medals (Gallantry) and five Yudh Seva Medals.
Top Stories