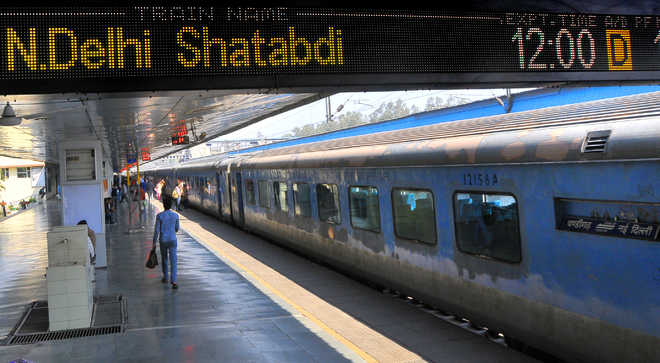 editorial@tribune.com
Kaveesha Kohli
Tribune News Service
Chandigarh, August 21
Passengers who wish to travel to Delhi in the executive class via the Kalka or Chandigarh Shatabdi often have to book their tickets a few days in advance as the occupancy rate in the luxury compartments is quite high.
The trains have two executive class compartments and 10-13 chair car compartments.
Even though tickets for the chair car compartments can be booked at the last moment during weekdays, for the executive class, there is often a waiting period of a few days. The occupancy rate for these compartments can be as high as 108 per cent, according to railway data accessed by The Tribune. "If you have to book a seat in the executive class, there is at least a waiting of two to three days. On the other hand, for the chair car, you can easily book the ticket a day in advance," said Rajiv Sahni, a Chandigarh-based travel agent.
Passengers question why the executive class cannot be extended to more compartments. "I often have to book my tickets in advance to travel in the executive class. I'm not sure why the Railways cannot increase the number of compartments," said Mukul Bhatia, who frequently travels by the Shatabdi.
The executive class compartments tend to have more comfortable seats, legroom and provide several options when it comes to food. They also have two seats on either side of the aisle, whereas the chair car compartments have three seats on one side and two seats on the other side of the aisle.
Top Stories