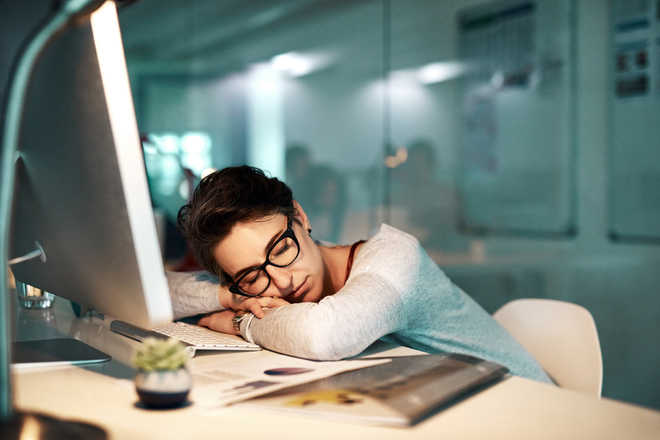 vermaajay1968@gmail.com
Jappreet Sethi
Sleeping or rather taking a nap on the job was always regarded as a work taboo. Taking a nap is somewhat looked down upon, and people think you must be slacking while they answer emails and send memos - often working through lunch hours too.
Forbes revealed that as per a 2008 study by Sara C. Mednick, Denise J. Cai, Jennifer Kanady, and Sean P.A. Drummond, a nap is better than caffeine as compared to the no nap or caffeine approach. In fact, a power nap is known to improve one's high function tasks ability. So you see, while the concept is catching on, you could be a trendsetter by snoozning at work.
What experts say
Productivity levels across the globe are dipping because people are stressed out. Companies are realising this and devising measures to ensure a harmonious work-life balance. In fact, the Japanese even have a word for it -"inemuri" which can be roughly translated to "sleeping while present." Author and sleep researcher Dr. Mednick of the "Take a Nap! Change Your Life" fame believes that daytime napping has added benefits to overnight sleep.
Some offices are even using EnergyPods. This is a state-of-the-art chair designed to help you nap in the workplace. It creates a zero-gravity sleeping position and consumes minimal space (lucky you!).
What should you do?
You can take a nap at work during lunch break. It's all about getting the task completed with efficiency and accuracy. And if you are not alert, mistakes are bound to happen. Lunch-hour is a designated time period allowed by the HR for refueling your energy levels - or simply eating and having a cup of caffeine. So if time permits and you can squeeze a short power nap during this period, it's just fine. Some prefer exercising during this period, other's love to hang out and gossip - even as a few continue working. So if you are thinking of taking a nap at your workplace, here are a few handy tips:
Maintain work etiquettes
If you have a cabin, shut the door and take a snooze. If in a cubicle or regular desk, try to dim the desk lights or use an eye mask. Don't put your feet up on the desk. Just slouch over slightly and set the chair at an angle you are comfortable with.
Set the time
Do set an alarm. While a power nap is good, you don't want to extend it into an afternoon siesta that leaves you grumbling and groggy. Ideally, a 20- to 60-minute nap is just right for non-rapid eye movement (R.E.M.) sleep. Post this period, the body gets into the R.E.M. sleep or dreaming state sleep. While a power nap or short nap is encouraged, a longer snooze could have the HR hovering around your desk. So do set a time.
Do keep in mind that you should try to maintain a decent posture when napping in your chair. The last thing you want is getting up with a neck sprain. A small neck support or pillow could be handy. The whole idea is to make sure you do it while adhering to workplace norms. And while your colleagues may be getting a kick out of too many caffeine cups, a nap could actually be doing more good.
— The writer is an HR & strategy consultant www.humanresourcesblog.in
All readers are invited to post comments responsibly. Any messages with foul language or inciting hatred will be deleted. Comments with all capital letters will also be deleted. Readers are encouraged to flag the comments they feel are inappropriate. The views expressed in the Comments section are of the individuals writing the post. The Tribune does not endorse or support the views in these posts in any manner.
Top Stories