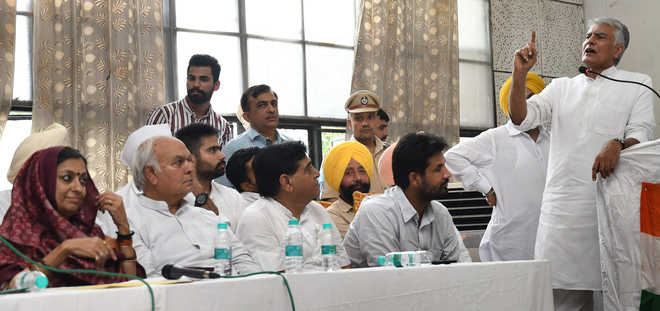 editorial@tribune.com
Tribune News Service
Chandigarh, September 17
Days after ministers and party MLAs spoke out against bureaucracy calling the shots in the Congress government, Punjab Pradesh Congress Committee (PPCC) chief Sunil Jakhar fired a fresh salvo on Tuesday, "promising to reclaim" power from bureaucracy while "restoring" the respect and political space for party workers.
During a meeting of party MLAs, MP and senior leaders, Jakhar took on his own government, saying that his single-point agenda was to make the officers accountable to the people. In a veiled reference to the adjustment of retired bureaucrats in the government, he said, "If rules can be changed to adjust them, the same yardstick could be used for workers who brought the party to power".
Hitting out at the bureaucracy, Jakhar said Capt Amarinder Singh was aware about the issue and he was taking a close look on the issue. While the CM skipped the event, AICC general secretary and Punjab affairs incharge Asha Kumari and Patiala MP Preneet Kaur were present in the meeting.
In light of the government's recent move to appoint six MLAs as advisers to the CM, the PPCC chief remarks on bureaucracy are being closely watched in party circles.
Striking a rapport with disgruntled workers, he advised the six MLA-cum-advisers to listen to the voice of the common man. Jakhar's concern on role of the bureaucracy was shared by a number of MLAs, including Gurkirat Kotli and Amarinder Raja Warring.
Addressing a press briefing, Jakhar said after Sonia Gandhi took over as Congress chief, the party had decided to bring different programmes on one platform. The enrolment drive will be given a push and the workers' training plan will be taken up on a large scale.
On Gandhi Jayanti, rallies and programme will be held across the state and shortcomings of the Modi government will be highlighted.