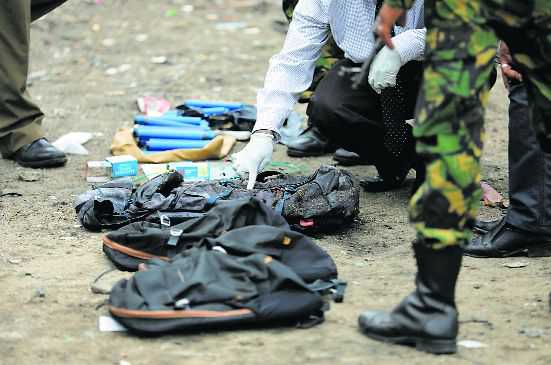 Colombo, April 27
Six children and three women were among 15 persons killed when militants linked to the Easter Sunday bombings opened fire and blew themselves up during a fierce gun battle with security forces in Sri Lanka's Eastern province, the police said on Saturday.
The shootout occurred as the security forces continued their hunt for members of the National Thowheeth Jamaath (NTJ), the local terror outfit behind the April 21 coordinated blasts in which 253 persons were killed and over 500 injured.
The Special Task Force and army troops, following a tip-off, raided a house in Kalmunai city, about 360 km from Colombo, on Friday night, leading to heavy exchange of fire with the armed group.
As the heavily-armed men opened fire on the troops, a civilian caught in the middle got killed. As the clashes intensified, three men are believed to have set off explosives.
"A total of 15 bodies recovered — six men, three women and six children. At least four suspected suicide bombers are dead and three others who were injured are in hospital," a police spokesperson said. "When the police was doing a joint search operation in Sainthamuruthu, gunfire was directed at them," police spokesman Ruwan Gunasekera said. A suicide blast took place and the body of a terrorist with a T56 assault rifle was also found at the site.
A huge cache of explosives was also seized from the spot.
"Officials have recovered detonators, suicide kits, army uniforms and ISIS flags," an army officer said.
Meanwhile, the police said that curfew imposed in the Muslim-majority areas of Kalmunai, Chavalakade and Sammanthurai would continue until further notice.
At least 76 people have been arrested by the police in connection with the attack so far. Twenty were arrested in the last 24 hours.
Officials also seized 1 kg of explosives near a railway station at Wellawatta, a popular south Colombo suburb. Sri Lanka has a population of 21 million which is a patchwork of ethnicities and religions, dominated by the Sinhalese Buddhist majority.
Muslims account for 10 per cent of the population and are the second-largest minority after Hindus. Around seven per cent of Sri Lankans are Christians. — PTI
Top News
His letter to the council's 15 members on Wednesday says Gaz...
The swearing-in ceremony of the 56-year-old leader would be ...
The 71-year-old will replace Richard Sharp
HM blames Nehru's 'blunders' for Kashmir's sufferings | Oppo...
One of these will vest Guv's Chancellor role with Chief Min...