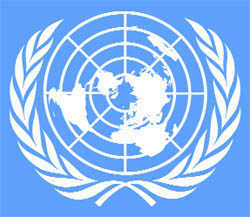 United Nations, April 14
The UN will end its 13-year-long peacekeeping mission in Haiti later this year, but two police contingents from India will remain the country as part of a smaller justice support mission that would assist the government to strengthen rule of law institutions.
Adopting a resolution here on Thursday, the UN Security Council unanimously decided that the UN Stabilisation Mission, known by its French acronym MINUSTAH, would gradually draw down its military component during the next six months, finally withdrawing from Haiti by October 15.
Acting on the recommendations of the Secretary-General, the Council also decided to establish a successor operation, the United Nations Mission for Justice Support in Haiti (MINUJUSTH), which would be mandated to assist the Haitian Government to strengthen rule of law institutions; further support and develop the National Police; and engage in human rights monitoring, reporting, and analysis.
The current MINUSTAH mission has just over 1,000 individual police and 11 police units.
As of February 2017, India had 452 police personnel in the UN mission in Haiti.
MINUJUSTH would be composed of up to seven Formed Police Units (FPU) or 980 FPU personnel and 295 Individual Police Officers for an initial period of six months from October 16 this year until April 15, 2018.
Sources told PTI that of the 11 police contingents in Haiti at present, three are from India. India does not have any troop presence in MINUSTAH.
Seven police contingents will remain in Haiti for the smaller MINUJUSTH and these would include two from India.
The new mission was also authorised to "protect civilians under imminent threat of physical violence, within its capabilities and areas of deployment, as needed." US Ambassador to the UN Nikki Haley said as the stabilisation mission in Haiti draws down and the new mission gears up, the Haitian people will be set on the path of independence and self-sufficiency.
"This is a success story when it comes to drawing down a peacekeeping mission. The United States will continue to stand with the people of Haiti. We have stated before the contributions of many of the peacekeeping troops in Haiti," she said.
Haiti has been dealing with a Cholera outbreak since October 2010, blamed on peacekeepers from Nepal, some nine months after it suffered a devastating earthquake.
The outbreak has affected an estimated 7,88,000 people and claimed the lives of more than 9,000.
The then UN Secretary-General Ban Ki-moon had last year apologised to the people of Haiti for the world body's role in failing to properly address the Cholera epidemic.
In addition, he had announced a $400 million two-track plan to stem the outbreak and provide long-term support for those affected.
India has contributed $1,00,000 to a UN trust fund designed to support Haiti in recovering from the 2010 cholera epidemic and building improved sanitation and health systems.
Briefing the Security Council early last week, MINUSTAH chief Sandra Honore said Haiti had made significant progress in consolidating democracy and maintaining security and stability with the inauguration of Jovenel Moise as President in February, marking the restoration of constitutional order.
Yet, in spite of these gains, pockets of fragility persisted and political challenges remained.
It is time, she said, to reshape the partnership among the international community, the United Nations and Haiti, with a view to monitoring concerns such as human rights issues and ensuring that progress made since MINUSTAH's 2004 establishment endure. — PTI
Top News
According to Rushdie's agent Andrew Wylie, nerves in his arm...
Natwar was Minister of State for External Affairs when Rushd...
All the four employees were dismissed from service under Art...
The exam was postponed for 11,000 candidates to accommodate ...
Had submitted resignation in Jan 2019 and floated his own po...