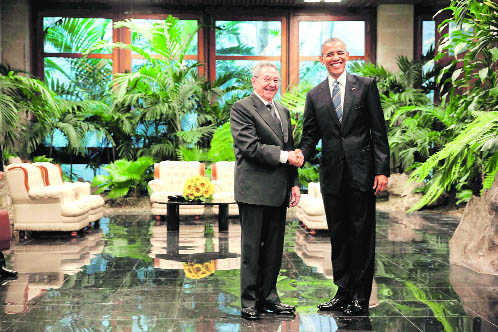 Havana, March 21
US President Barack Obama and his Cuban counterpart Raul Castro vowed today in Havana to set aside their differences in pursuit of what the US President called a "new day" for the relationship between the neighbours.
Castro acknowledged there were still "profound" differences over human rights and the decades-old US economic embargo. He pointedly refused to acknowledge that Cuba held political prisoners.
But Castro said the former enemies should take inspiration from US endurance swimmer Diana Nyad, who in 2013 managed on her fifth attempt to become the first person to swim from Cuba to Florida without a shark cage.
"If she can do it, we can do it too," Castro told journalists after more than two hours of talks with Obama in Havana's Palace of the Revolution, the nerve centre of the communist government that has ruled Cuba since the takeover by Raul's brother Fidel Castro in 1959.
Obama, the first US President to visit Cuba in 88 years, hailed a "new day" — a "nuevo dia", as he said — in relations between the former Cold War foes.
Trying to draw a line under past heavy-handed US intervention in the island's affairs, Obama vowed that "Cuba's destiny will not be decided by the United States or any other nation." But he insisted that Washington was not going to give up pressing for political freedoms in Cuba, where the Communist Party controls politics, the media and the economy. The United States "will continue to speak up on behalf of democracy," he said.
Meeting Castro for only the third time for formal talks, Obama was greeted by a military band at the Palace of the Revolution.
Obama, under pressure back home to show that his scrapping of more than half a century of US hostility to the Castro regime is paying off, then sat for discussions against a backdrop of tall tropical plants and the two countries' flags.
Earlier he laid a wreath at the monument of Cuban independence hero Jose Marti. Tomorrow, he was to give an address carried live on Cuban state television, and then attend a baseball game between the national team and Major League Baseball's Tampa Bay Rays, before flying out.
Obama's visit has raised hopes among struggling Cubans that decades of economic and political stasis may be coming to an end. But the brief detention of dozens of pro-democracy protesters hours before Obama's arrival yesterday served as a stark reminder of the regime's iron grip on power. And despite the excitement among ordinary Cubans, officials appeared to be taking pains to give a restrained welcome. — AFP
Good US-Cuba ties are in Russia's interests: Kremlin
The Kremlin on Monday commented on Barack Obama's historic visit to Cuba, saying it was in Russia's interests for Havana, its long-time ally, to have good relations with the US
"Decades of friendly partner-like relations link Russia and Cuba," Kremlin spokesman Dmitry Peskov said. "We are interested in Cuba, which is friendly to us, maintaining good relations with all its neighbours and above all with the United States"