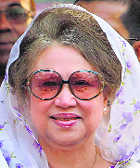 Dhaka, January 2
A Bangladesh court today ordered the arrest of former Prime Minister Khaleda Zia in connection with bomb attacks on a bus during an anti-government agitation in 2015 that killed eight persons, a police official said.
Judge Joynab Begum of the Comilla district court accepted the chargesheet filed by the police in the case and issued the arrest warrant, the official said.
The Bangladesh Nationalist Party (BNP), led by 72-year- old Zia, had boycotted the 2014 general elections which were held under the Awami League government. The BNP had emerged as the main opposition party outside parliament.
The BNP, along with 20 alliance partners, had given a call for a nationwide transport blockade in 2015 in protest against the first anniversary of the polls.
Eight passengers were killed after protestors hurled petrol bombs on a bus in the central Comilla district during the agitation."The judge issued the arrest warrant after accepting the charge sheet submitted by police," the official said. — PTI
Top News
Odisha government has issued helpline 06782-262286. The rail...
At least 50 people died and 350 were injured in a three-way ...
Estimated strength of these six teams is more than 240 perso...
WFI chief demanded sexual favours in lieu of supplements and...
Said agitation will be intensified by holding panchayats acr...