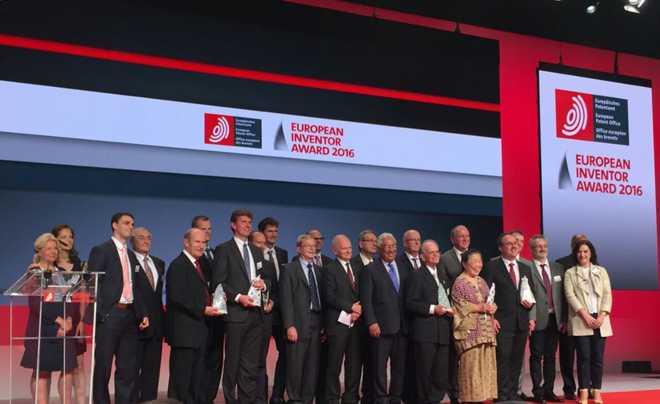 Geetu Vaid
Lisbon, June 9
A Cambridge University researcher Helen Lee was picked by an overwhelming majority for her invention of diagnostic kits for resource-poor developing countries for detection of infectious diseases such as HIV, hepatitis B and chlamydia in the popular prize category at the European Inventor Awards ceremony today.
Saluting the spirit of innovation and the passion of inventors from European as well as non-European countries, the awards were presented at a grand ceremony here.
(Follow The Tribune on Facebook and Twitter @thetribunechd)
Launched by the European Patent Office (EPO) in 2006, the annual award distinguishes individual inventors and teams of inventors whose pioneering inventions provide answers to some of the biggest challenges of our times.
The awards are presented each year in five different categories, including industry, research, SME's non-European countries and the popular prize.
Fifteen finalists from different fields had been shortlisted this year from over 400 applications.
Nearly 600 dignitaries from the areas of politics, business, intellectual property and science attended the ceremony as EPO president Benoît Battistelli, Portugal's Prime Minister António Costa and European Commissioner for Research, Science and Innovation Carlos Moedas opened the awards ceremony.
An independent international jury had selected three finalists in each of the five award categories. To qualify for the award, the proposals had to meet specific criteria, including that the inventor had to have been granted at least one European patent for their invention.
In the industry category, German physicists Bernhard Gleich and Jürgen Weizenecker and their team received the award for their path-breaking medical imaging solutions that offer instant 3D images of tissue complications, including cancers and vascular diseases.
In the SME category, the Danish research team received the award for its application of ammonia in solid form to reduce air pollution from diesel engines and act as emissions-free fuel.
Alim-Louis Benabid, a French physicist and neurosurgeon, was honoured in the research category for revolutionising the treatment of Parkinson's disease through his brain pacemaker.
With the number of patent applications witnessing a steady increase over the years, the non-European category has been an important award category that had Indian-origin scientist Arogyaswami Paulraj as a finalist.
The award was won by US chemical engineer Robert Langer for his biogradable plastic 'wafers' that encapsulate powerful anti-cancer drugs for targeted delivery.
Anton van Zanten (Germany/Netherlands) was honoured for his landmark contributions to automotive safety systems, including an electronic stability control (ESC) system that prevents automobiles from veering off the road and crashing in extreme braking situations. He was granted the lifetime achievement award.
"Today's award ceremony is a tribute to the spirit of innovation and the work of dedicated individuals who through their inventions advance the state of the art for all of us," EPO president Benoît Battistelli said.
"The inventions give new hope to people suffering from disease, increase diagnostic efficiency, protect the environment and save thousands of lives on the road," he added.
Top News
Several pictures of Amritpal Singh in different attires rele...
Severest of severe action taken: CM | Amritpal's lawyer alle...
BJP slams Congress for skipping RS Chairman's meeting