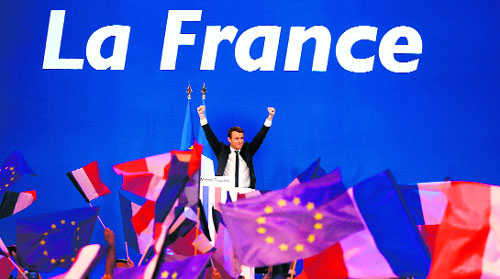 Paris, April 24
He was once the subject of mockery in French political circles — now it appears that Emmanuel Macron could have the last laugh. At 39, and running on an independent ticket, he has made through to the May 7 runoff where he will face far-right leader Marine Le Pen. He secured 8.4 million votes — more than any other candidate — in the first round.
Macron, who has never before held elected office, was current President Francois Hollande's Economy Minister but quit to create his own party, En Marche, which pushes a liberal, pro-EU agenda.
To his fans, Macron is the jolt that France needs — a dynamic fighter for reforms who could pull the country out of its economic malaise and crisis of confidence. To critics, he is an opportunist selling himself as a political rebel despite serving under Hollande for years and attending the same elite schools that have trained generations of French leaders.
His rival — Marine Le Pen — fits into well-defined political boxes. Macron does not. He wants to cut regulations that discourage entrepreneurship, reduce the size of the French state, welcome refugees and promote closer European integration.
As most other parties are now backing him, he is almost certain to win. But he may struggle to get enough of his candidates elected to Parliament - where more established parties, such as the Republicans and the Socialists, currently have the most seats.
"In French politics, if you were neither right nor left you were nowhere. He has turned this into strength," said Pascal Lamy, the former head of the World Trade Organisation who has known Macron for over a decade.
If he is victorious, it will have major implications, not just for France, but for Europe. — Agencies