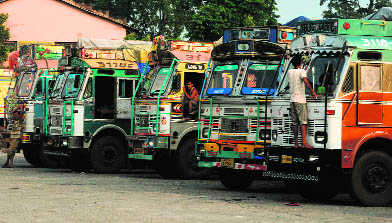 Beijing, October 13
Amid mounting pressure on Nepal's government over dwindling supplies of goods from India due to the ongoing violent agitation over the new Constitution, China today reopened its border with Nepal in Tibet which Chinese officials say will see "explosive growth" in trade.
The border was closed after the road along the route on both sides was damaged during the massive April 25 earthquake in Nepal which also partly affected border regions in Tibet. The border land port at Jilung, a county in southwest China's Tibet Autonomous Region, reopened today, state-run Xinhua news agency reported. The road leading to the port finally reopened after months of repair, allowing the port to operate once more, Sun Lijun, head of the port's management committee in China said.
He said trade at the port wpild see "explosive growth" after a huge fall in border trade following the quake. Nepal has been Tibet's largest trade partner since 2006.
The port, about 130 km away from Kathmandu, used to be the largest port linking the two regions, but it gradually lost its importance due to weak infrastructure.
Yesterday, Chinese Foreign Ministry spokesperson, Hua Chunying told media that Beijing was expediting efforts to reopen the border.
Nepal faces dwindling supplies of essential commodities from India due to the violent agitation by Madhesis - Indian-origin inhabitants of the country's southern plains - over the new Constitution.
Madhesis and Tharu ethnic groups are protesting for more representation in the Constitution. They see the model to split Nepal into seven federal provinces as flawed and discriminatory to their rights. More than 40 people have died in the violent agitation. — PTI
Madhesis withdraw protests partially
Kathmandu: Nepal's agitating Madhesi groups on Tuesday said they would withdraw protests except the blockade on the Indian border, in view of "Dasehra" though there was some improvement in the supply of fuel from India.
Top News
The accused, identified as 20-year-old Sahil, arrested from ...
The 16-year-old girl was stabbed to death allegedly by her b...
This comes a day after the Delhi Police clear the sit-in sit...
Students can begin sending Test of English as a Foreign Lang...