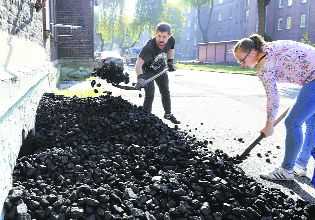 Katowice, December 2
Delegates from nearly 200 nations on Sunday began two weeks of talks to tackle deep political divisions at the most important UN meeting on global warming since the landmark 2015 Paris deal to shift away from fossil fuels.
Expectations are low that negotiations in Katowice, at the heart of Poland's coal region, will be sufficient to address concerns laid out in reports over recent weeks on the severity of rising greenhouse gas emissions.
The political climate has also been transformed since the Paris agreement and the fragile global unity that brought about that accord has shattered.
Fijian PM Frank Bainimarama declared the UN conference open on Sunday and handed over the presidency of the talks to Michal Kurtyka, Poland's deputy environment minster. "We will all have to show creativity and flexibility," Kurtyka said.
Stoking the tensions, Brazil has gone back on an earlier promise to host next year's UN climate conference.
The United States, meanwhile, reiterated at the G20 summit in Argentina on Saturday its decision to withdraw from the Paris accord and a US commitment to using all energy sources.
The other members of the group of industrialised nations -- including the biggest polluter, China -- reaffirmed their commitment to implementing the Paris deal, taking into account their national circumstances and relative capabilities.
The Katowice talks precede an end-of-year deadline to produce a "rule book" to flesh out the broad details that were agreed in Paris, aimed at limiting the rise in global temperatures to between 1.5 and 2° Celsius. To give the negotiations a better chance, the start of the Katowice talks was brought forward by a day.
Poland is hosting UN climate negotiations for a third time, but the nation remains hooked on coal, the most carbon-intensive fossil fuel. Coal provides about 80 per cent of Poland's power and has been a major source of employment and national pride.
The younger generation is less emotionally attached to coal and is increasingly environmentally aware, though any phasing out of the fuel in Poland is likely to be slow.
The energy ministry said only last week that the country plans to invest in new coal capacity while its long-term energy strategy assumes it will still obtain about 60 percent of its power from coal in 2030. — Reuters
---
Key test for nations
The meeting in Katowice is regarded as a key test of countries' willingness to back their lofty but distant goals with concrete measures, some of which are already drawing fierce protests
At the top of the agenda is the so-called Paris rulebook, which will determine how governments record and report their greenhouse emissions and efforts to cut them
Separately, negotiators will discuss ramping up countries' national emissions targets after 2020, and financial support for poor nations that are struggling to adapt to climate change
Top News
Gandhi was convicted on March 23 in the defamation case for ...
Situation in Sasaram and Biharsharif normal, say police
Notably, Shah's tour of Sasaram in Rohtas district has been ...
The untimely rains are expected to continue for a few more d...
The Kabul-born Durani played 29 Tests for India