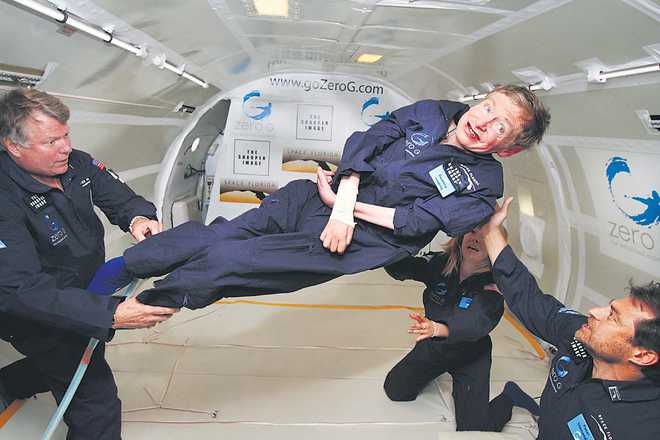 Shelley Walia
IN 2014, watching Philip Martin's 'The Theory of Everything', based on scientist Stephen Hawking's life, I was transported to my days back in Cambridge University, where Hawking was indeed part of the landscape. Often seeing him in his wheelchair on Trinity Street, supported by his nurse, my wife and I would stop by to say 'hello'. Hawking, struck by a motor neuron disease early in life, had lost the use of his limbs and speech. He spoke with the help of a voice synthesiser, of which he often joked for its American accent.
Of course, we attended his many public lectures at Sidgewick Site, standing many a time, as the hall would always be strained to capacity, pulling ourselves up on our toes to hear him speak and trying to understand as best as we could his theories with our untrained literary ears.
(Follow The Tribune on Facebook; and Twitter @thetribunechd)
Stephen Hawking's death marks the end of an era. I met him first in the early 1990s, a rare celebrity and a great thinker, far more popular than DNA expert Francis Crick, who was then a professor at Cambridge. I recall a conversation on EM Forster's "Passage to India" when he nostalgically looked back on his parents' journey to India by car, while he stayed back in the post-war liberal Oxford atmosphere of work and play, love and reading, but remaining steadfast in his pursuit of understanding the origins of the universe.
I had been working on the decline of the aristocracy, especially in the context of Evelyn Waugh, and at one of our meetings, Hawking interestingly drew my attention to Waugh's "Brideshead Revisited" enmeshed in the culture and academic atmosphere of Cambridge and Oxford. In our conversation, he mentioned how Hitler had decided not to bomb these two centres of higher learning while the allies in return spared Heidelberg and Gottingen. To my amusement, he told me how Hitler had envisioned Oxford as the capital of his empire.
Once I found him by the banks of the river Cam, listening to Mahler on Radio 3. It astonished me that a world-renowned scientist was so approachable, unlike his Indian counterparts whom one would imagine ensconced in the dullness of their labs. I was even more surprised when he called me by my name and offered me a glass of red wine. We chatted a little about Huxley on whom he held forth with the adroitness of a literary critic.
Hawking's love of literature and philosophy, his work on the quantum theory as applied to the Big Bang would bring cosmology, or the very origin of the universe, in close proximity with the physical law. The controversy generated worldwide by CP Snow's lecture on "The Two Cultures" in 1959 had left him seeking for links in science and art.
The idea of quantum physics, with its basis in the "uncertainty principle" of German physicist Weiner Heisenberg, explains how we can never make a precise determination of all properties of an object like an electron and these can be predicted only in terms of probabilities. This is the idea of doubt and ambiguity that postmodernism lays emphasis on. So does Wittgenstein's view that language has no centre and that given meanings are not dependable as they stand.
Here was Hawking's argument for the steady march of empiricist methods into the field of social sciences and hermeneutics. I also recall his recent interventions in public matters of great consequence like the National Health Service and the curse of privatisation, and the burning Middle East imbroglio with his exceptional idea of proscribing any educational links with Israel, bringing upon himself an intense and impassioned dressing-down from the Jewish community.
His crippling disease and failed marriage never impeded his single-minded pursuit of Black Holes, the Big Bang and Quantum Cosmology. Occupying the Newton Chair in Cambridge, it was often said that his life in science had indeed taken quantum cosmology to frontiers even Einstein would wonder at. I shall remember him as a man never deterred from the nature of his work or as a speaker who dexterously brought the interplay of wit and wisdom, gaiety and earnestness to his lectures as well as to his social interchange.
— The writer is a Professor at PU, Chandigarh
Top News
Railway Board has recommended for Central Bureau of Investig...
'Amid 'pro-Khalistan sloganeering, the 39th anniversary of O...
Darknet refers to the deep hidden internet platform that is ...
Nothing objectionable except personal belongings and Pakista...