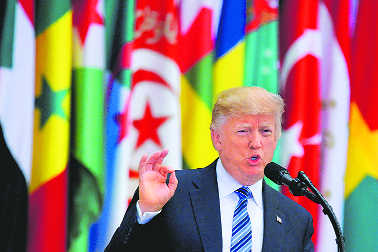 Washington, June 6
US President Donald Trump said today his trip to the Middle East was "already paying off" as regional leaders followed through on their promise to take a hard line on funding militant groups.
"So good to see the Saudi Arabia visit with the King and 50 countries already paying off. They said they would take a hard line on funding extremism, and all reference was pointing to Qatar. Perhaps this will be the beginning of the end to the horror of terrorism!" Trump said in a series of Twitter posts. Reuters
Travel ban needed for 'dangerous countries'
Trump has insisted the need for a travel ban for certain "dangerous countries".
"That's right, we need a TRAVEL BAN for certain DANGEROUS countries, not some politically correct term that won't help us protect our people!," Trump tweeted.
In the aftermath of the London terror attack, Trump retorted once again to the US courts for blocking his attempted travel ban against people from six Muslim-majority countries.
"People, the lawyers and the courts can call it whatever they want, but I am calling it what we need and what it is, a TRAVEL BAN!" the President tweeted.
His comments drew the ire of legal experts, including a supreme court lawyer representing Hawaii against the White House and George Conway, husband of Trump's aide Kellyanne Conway and an attorney who has been considered for senior federal posts, the Guardian reported.
Neil Katyal, a supreme court lawyer, tweeted in response to Trump, "It's kinda odd to have the defendant in Hawaii v Trump acting as our co-counsel. We don't need the help but will take it!" The White House appealed to the Supreme Court after Trump's executive order restricting entry to the U.S. from Iran, Yemen, Somalia, Sudan, Libya and Syria was blocked by federal courts in Maryland and Hawaii. —ANI
Qatar ready for mediation
Dubai: Qatar's foreign minister said on Tuesday that Doha was ready for mediation efforts after the Arab world's biggest powers severed ties with it, adding that Qatar's ruler had delayed a speech in order to give Kuwait a chance to ease regional tensions. Saudi Arabia, Egypt, the United Arab Emirates and Bahrain severed diplomatic relations with Qatar in a coordinated move on Monday. Yemen, Libya's eastern-based government and the Maldives joined later and transport links were shut down. Sheikh Tamim bin Hamad Al-Thani spoke by telephone overnight with his counterpart in Kuwait, which has maintained diplomatic ties with Qatar, and decided to postpone a speech to the Qatari people as requested. Qatar "believes such differences between sister countries must be resolved through dialogue." Reuters
UAE wants guarantees before mending ties
Abu Dhabi: The United Arab Emirates said today that Qatar would need to provide a "guaranteed roadmap" before it would consider mending ties. Along with neighbouring Saudi Arabia and its closest allies, the UAE severed relations with Qatar on Monday, suspending all flights and giving Qataris 14 days to leave in the biggest diplomatic crisis to hit the region in years. "We need a guaranteed roadmap to rebuild confidence after our covenants were broken," UAE state minister for foreign affairs Anwar Gargash said on Twitter. AFP
Kuwait ruler to meet Saudi King
Dubai: Kuwait's ruler will travel to Saudi Arabia on Tuesday for talks with King Salman over a Gulf Arab dispute with Qatar, Gulf Arab officials said. Kuwait's emir Sheikh Sabah Al-Ahmad Al-Jaber al-Sabah is acting as a mediator between Doha and some other Gulf Arab states including Saudi Arabia, which have severed diplomatic and transport ties with Doha. Reuters
Top Stories