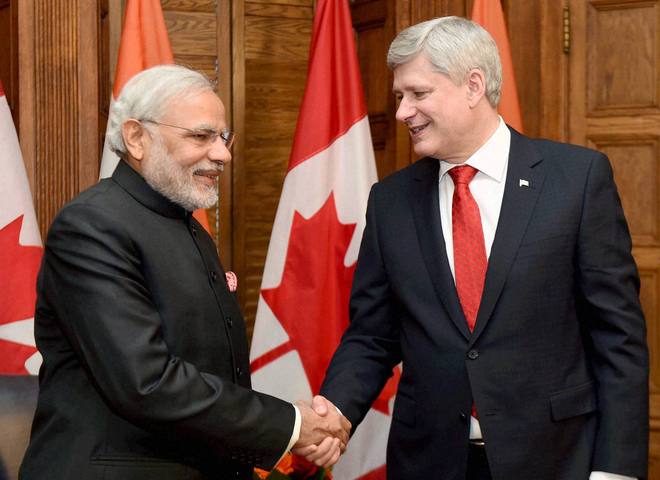 Ottawa, April 15
Canada today agreed to supply 3,000 metric tonnes of uranium to energy-hungry India from this year under a $254 million five-year deal to power reactors as the two countries decided to set in motion a new strategic partnership. The agreement for uranium supply, which came two years after protracted negotiations following the 2013 civil nuclear deal between India and Canada, was signed after talks between Prime Minister Narendra Modi and with his Canadian counterpart Stephen Harper.
The Prime Minister, who is on a three-day visit to Canada, held wide-ranging discussions with Harper on a host of issues covering threats posed by terrorism besides exploring the potential for cooperation in energy, infrastructure, manufacturing and skills, smart cities, agro industries, research and education.
Modi announced liberalised visa policy for Canadian nationals visiting India, saying: "We will issue Electronic Visa Authorisation for tourist visa for Canadian nationals. They will also be eligible for 10-year visas now."
The two sides inked 13 agreements on skill development, which Modi said "reflect my commitment to empowering the youth of India with world-class skills for India and the global economy". On terror, he said India felt Canada's pain when it was struck by a "senseless act of terrorism" recently.
Under the agreement on uranium, Cameco Corporation will supply 3,000 metric tonnes of nuclear fuel over five years to India at $254 million and the supply will start from this year, an official said.
Canada is the third country to supply uranium to India after Russia and Kazakhstan. The supplies will be under the International Atomic Energy Agency safeguards. At a joint press conference with Harper, Modi said: "The pact on procurement of uranium for our civilian nuclear power plants launches a new era of bilateral cooperation." — PTI
Top News
Railway Board has recommended for Central Bureau of Investig...
Amid 'pro-Khalistan sloganeering, the 39th anniversary of Op...
Focus on ways to expand bilateral defence and strategic ties
The incident took place when Binny had to load his SUV for t...