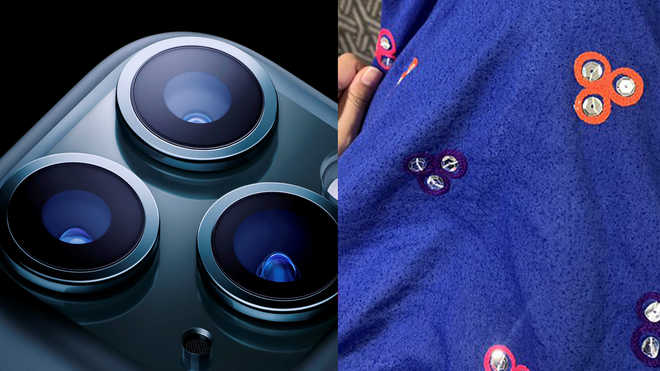 Tribune Web Desk
Chandigarh, September 11
Soon after Apple unveiled its iPhone 11 models, Nobel Laureate Malala Yousafzai shared a picture of her blue dress pattern, which she says has an uncanny resemblance to the camera.
In a witty tweet, she wrote: "Is this just a coincidence that I wore this dress on the same day as Apple iPhone 11's launch".
Some people also observed that the camera looked like a fidget spinner and meme and jokes continue to flood the Internet.
Incidentally, Apple in January 2018 announced supporting the Malala Fund led by the Nobel Peace Prize Laureate which is focused on advocating every girl's right to 12 years of free, safe and quality education.
Apple iPhone 11 will be available in 64GB, 128GB and 256GB models in purple, green, yellow, black, white and PRODUCT (RED), starting at Rs 64,900 in India while iPhone 11 Pro and iPhone 11 Pro Max with triple cameras will be available in 64GB, 256GB and 512GB models in midnight green, space gray, silver and gold, starting at Rs 99,900 and Rs 109,900, respectively.
Is this just a coincidence that I wore this dress on the same day as Apple iPhone 11's launch #iPhone11 pic.twitter.com/k6s4WM4HKq

— Malala (@Malala) September 10, 2019
For a second I thought you were posting a picture of fidget spiners. pic.twitter.com/6HjAtgeLtP

— The Invisible Man (@invisibleman369) September 10, 2019
😂 @Malala killing it with real-time #AppleEvent tweet. So good.

— Andy Nelson (@NelsonAndyR) September 10, 2019
nice look

— Ravi (@Ravi67704019) September 11, 2019
so many fidget spinners on your dress

— Hesham Bhatti (@HeshamBhatti) September 11, 2019