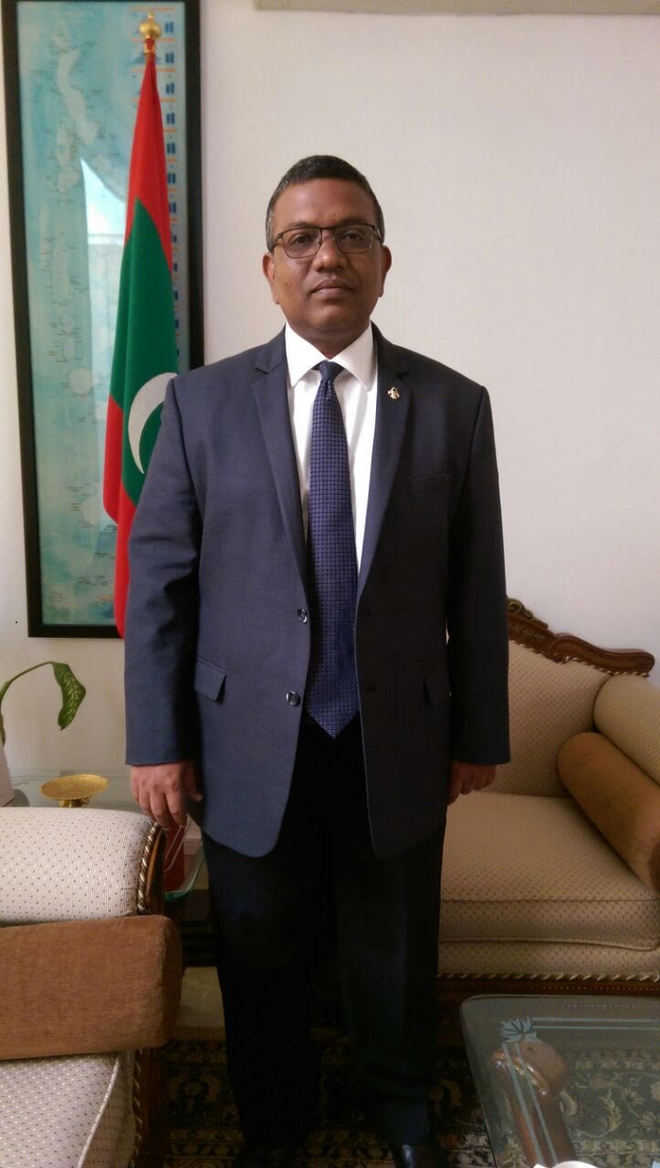 Maldives has been in deep political turmoil since February 1 with India 'disturbed' and seeking President Yameen to abide by court orders that sought release of political prisoners, including former President Nasheed. However, Maldives has claimed it is an internal matter and any intervention through sanctions will only make the people of the island nation suffer. In an exclusive interview with The Tribune, Maldivian envoy to India Ahmed Mohamed also invoked the 'foreign hand' behind current developments. Smita Sharma spoke to Ahmed Mohamed.
With the clampdown of emergency, there seems to be no semblance of democracy in Maldives anymore.
To maintain peace, security and law and order, the President has constitutional powers with in the democratic system to declare the state of emergency. Emergency does not mean there is no democracy.
With the arrest of the Chief Justice and a senior judge of the Supreme Court, an ex-President and firing of police chief — it looks like a dictatorship and no respect to democratic values.
For some it may seem like that but we need to go deeper into what led to the situation. Just one fine evening an order came out from Supreme Court saying the Judicial Service Commission has no power to investigate or take disciplinary action against Supreme Court judges overriding the constitution. The constitution clearly says the commission is an independent authority.
There is no opposition voice in this and the government could leverage its influence over the members?
The Constitution came in 2008 that lays down the composition of this commission. There are judges from High Court, Supreme Court, a civilian appointed by Majlis among others. There was a case prior to the February 1 order that was taken up by the commission to investigate some judges of the Supreme Court. So motive of the court order that came out was to nullify that. Then probably in anger they said that all these nine people in jail should be released. But these cases have passed three tiers of justice in lower, higher and Supreme Court. How can the Supreme Court without presenting any evidence or hearing on a case that has already been decided by it in the past say that from today you are free?
Will President Yameen exercise clemency to allow former President Nasheed back into the country?
How can the President allow as the clemency Act also says the person needs to serve at least two-third of the sentence. What is conspiring within Maldives is an internal matter where people have taken law into their hands for their self-interests.
Who is conspiring?
Someone is conspiring. There is suspicion. That is why former President Maumoon has been arrested on charges to overthrow an elected government.
Do these elements have backing of some foreign countries?
Some people say so but I cannot confirm. There has been such strong dislike expressed by few people whom we know. They maybe people within Maldives or from outside. There is a lot of suspicion.
Is there an increased bitterness with India? Maldives said special envoy wanted to visit India first but there were no dates. But Indian government sources say no protocol was followed.
Fact is we requested India as the first port of call for special envoys who were going to India, Pakistan, China and Saudi Arabia. The senior most delegation was heading to India led by Foreign Minister. Yes, it was on short notice. A reaction was received. We also acknowledged the fact that Indian Foreign Minister is out of country. Therefore for us it would be of no issue even if we could meet one of the state ministers or any one appropriate. They could have met the special envoy. We also requested to call on Prime Minister Modi if convenient. But while someone says we do not know the agenda, is it really so? Everyone knows the agenda.
India put out a travel advisory for its citizens. Will it hurt your economy?
Yes, if Indians do not travel to Maldives. Indians are the fifth largest source of tourists in our country. The largest source is China followed by some European nations. For our livelihood, tourism is the most important sector. When a country declares state of emergency, irrespective of the reasons, it is right of other nations to advise their citizens to be vigilant. But there are no restrictions on ground. Airports and transport links are functioning as usual.
Former President Nasheed tweeted to ask India to intervene militarily. What's your reaction?
This is an internal matter. There is no bloodshed going on in the country, no restriction on movement of people, no curfew, business is on as usual, children are going to school, transport links are working.There is normalcy in Maldives. Why should a foreign country intervene militarily in such a state of affairs? The situation in 1988 was a case of attack on Maldives by foreign mercenaries. The government of the day requested for help from India. India came to protect the people of Maldives. Is there a question of protection of people of Maldives at present? No.
If India exercises some sanctions, how would it impact the bilateral ties?
I don't think India would do that. Things have calmed down to an extent where the Maldivian government has already called for all-party talks. The government wants to end the impasse. We have also invited development partners to come to Maldives and talk to relevant actors within the country. To be engaged rather than imposing sanctions will be a better option as sanctions will hurt the people of Maldives.
Will emergency be lifted in 15 days?
I am sure and have full confidence in the government that it will be lifted.
With China backing you and India criticising, are we seeing a tug of war?
We should have friends. We should not have a tug of war between super powers to put us in a difficult position. Maldives is a very small country but independent and sovereign. Let us do what an independent and sovereign country can do.
Will Nasheed be allowed to come back and fight elections?
Nasheed is not the only Opposition or only leader. He is a convicted criminal and has a sentence to serve. So let Nasheed come to Maldives, serve the sentence, finish it and contest for the presidency. But not the 2018 elections.
Top News
Says govt keeping eye on Covid situation, prepared to face a...
The slab constructed on top of an ancient `bawdi' or well co...
Trump call it 'political persecution and election interferen...
He is serving time in a road rage case dating back to 1988
India is likely to end this fiscal year with total exports o...