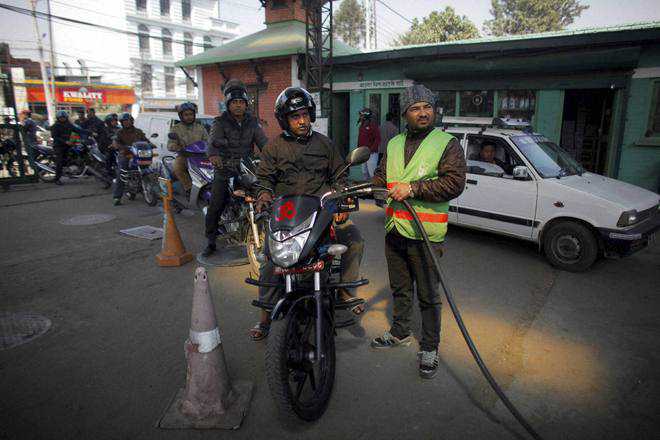 Kathmandu, February 23
With significant improvement in supplies from India, Nepal today ended its five-month-long rationing of fuel imposed after the turbulence over the new Constitution saw a crippling blockade of key border trade points and violent protests in the landlocked country.
This is good news to thousands of people in the Himalayan nation who, under the quota, were getting merely five litres of petrol for two-wheelers and 15 litres for four-wheelers at a time besides half-filled LPG cylinders. Motorists will now get any amount of fuel, while households can buy fully filled cooking gas cylinders.
Stating that supply of petroleum products from Indian Oil Corporation (IOC) is increasing by the day after the blockade was lifted nearly a fortnight ago, the Ministry of Supplies (MoS) took the decision to this effect yesterday.
"We have ended quota system in distribution of petroleum products," MoS spokesperson Deepak Subedi said, adding: "We have allowed gas bottlers to circulate full cylinders and also directed Nepal Oil Corporation (NOC) as well as petrol pumps to distribute fuel as per the demand of the consumers."
"We are currently receiving 70 per cent of the demand. The quantum of supply is on the rise," Subedi said. According to the NOC, normal daily demand of petrol and diesel stands at around 1,100 KL and 2,700 KL, respectively.
Similarly, daily demand for LPG is around 1,200 tons. The NOC has been distributing 450 KL of petrol and 500 KL of diesel in the Kathmandu valley every day which is higher than the demand of 350 KL of petrol and 450KL of diesel on normal days.
The IOC is loading 45 gas bullets a day, compared to 60 bullets before the blockade, a report said.
"We have also asked the NOC to maximise the supply of petrol," Subedi added. The MoS said it had instructed the NOC to end fuel rationing in the hope that the length of serpentine queues seen outside fuel stations would gradually shorten if vehicle owners were allowed to refill as per their need in one go.
The NOC had imposed fuel rationing after its storage started dwindling along with the disruption in supply from India in the last week of September due to the blockade by agitating Madhesi parties over the new Constitution, which divides their ethnic homeland.
The development comes as Nepalese premier is on his maiden trip to India to ease strains in ties that had cropped up during the agitation. — PTI
Top News
Flight UK954 and Flight UK928 from Mumbai to Delhi diverts t...
Sarvjeet Sidhu, pleaded guilty to attempted murder, while Su...
The temporary ceasefire, which was initially reached on Nove...
Posthumous sperm retrieval (PSR) is a procedure that involve...
The student's murder and the letter warning of more such kil...