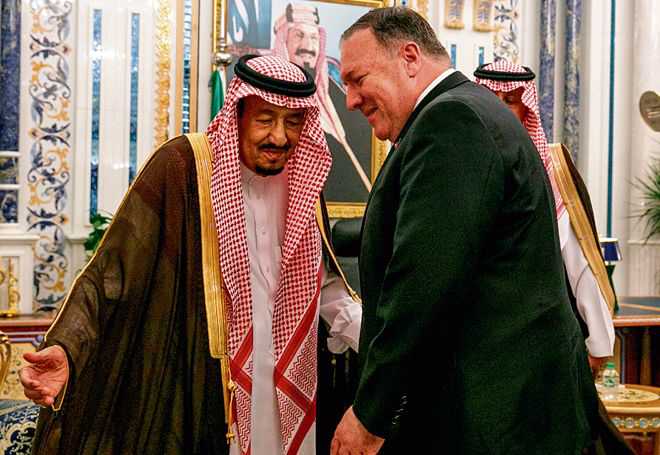 WASHINGTON/RIYADH, June 24
US President Donald Trump targeted Iranian Supreme Leader Ayatollah Ali Khamenei and other senior Iranian officials with new US sanctions on Monday, looking for a fresh blow to Iran's economy after Tehran's downing of an unmanned American drone.
With tensions running high between the two countries, Trump signed an executive order imposing the sanctions, which US. Treasury Secretary Steven Mnuchin said the move would lock billions of dollars more in Iranian assets.
Trump told reporters that the sanctions were in part a response to last week's downing of a US drone by Iran, but would have happened anyway. He said Khamenei was ultimately responsible for what Trump called "the hostile conduct of the regime" in the Middle East.
"Sanctions imposed through the executive order ... will deny the Supreme Leader and the Supreme Leader's office, and those closely affiliated with him and the office, access to key financial resources and support," Trump said.
The sanctions are aimed at denying Iran's leadership access to financial resources, blocking them from using the United States financial system or having access to any assets in the US.
"Anybody who conducts significant transactions with these sanctioned individuals may be exposed to sanctions themselves," the White House said. Some policy analysts say that earlier sanctions issued under Trump's "maximum pressure" campaign are why Iran has felt compelled to adopt more aggressive tactics as its economy feels the crunch. The Trump administration wants to force Tehran to open talks on its nuclear and missile programmes and its activities in the region.
Tensions between the United States and Iran have grown since May when Washington ordered all countries to halt imports of Iranian oil. Iran says it will not be forced to the negotiating table.
"We call on the regime to abandon its nuclear ambitions, change its destructive behavior, respect the rights of its people, and return in good faith to the negotiating table," Trump said in a statement issued along with the text of the executive order.
Iranian authorities contacted by Reuters were not immediately available to comment on Trump's announcement.
Iran's hardline semi-official Tasnim and Fars news agencies said the sanctions imposed on Tehran were based on "fabricated excuses." Mnuchin said Iranian Foreign Minister Mohammad Javad Zarif would be targeted with US sanctions later this week.
Sanctions were also imposed on eight senior commanders of Navy, Aerospace, and Ground Forces of the Islamic Revolutionary Guards Corps, the US Treasury Department said. Trump said the sanctions are a "strong and proportionate response to Iran's increasingly provocative actions." — Reuters
Pompeo in Saudi Arabia for talks
US Secretary of State Mike Pompeo met with Saudi Arabia's king and Crown Prince on Monday amid heightened tensions with Tehran after President Donald Trump called off a military strike to retaliate for Iran's downing of a US drone
Pompeo thanked King Salman for meeting him on "such short notice" at their talks in the Saudi city of Jeddah, according to a pool report of journalists travelling with him. In reply, the king called Pompeo a "dear friend"
Pompeo then met Crown Prince Mohammed bin Salman, the kingdom's de facto ruler. The top US diplomat had told reporters before departing on a trip to Saudi Arabia and the UAE that Washington wanted talks with Tehran, even as it imposed new economic sanctions
Iran threatens more attacks on US drones
Iran's naval commander, Rear Admiral Hossein Khanzadi issued a warning to Washington that Tehran is capable of shooting down other American spy drones that violate Iranian airspace
"We confidently say that the crushing response can always be repeated, and the enemy knows it," Khanzadi was quoted as saying by the semi-official Tasnim news agency
The US denies the drone, valued at more than $100 million, violated Iranian airspace. Trump said he backed away from planned strikes after learning that 150 people would be killed but that military action remained an option
Tensions have been escalating since US President Donald Trump last year withdrew the US from a global nuclear deal with Iran and re-imposed economic sanctions on Iran
Top News
Rescue workers break through the 60-metre stretch of rubble ...
Education dept issues the dismissal orders following approva...
Dhankar described Gandhi as the 'mahapurush' of the last cen...
Sikhs of America says gurdwaras are places of worship and sh...
Set to meet Governor Banwarilal Purohit