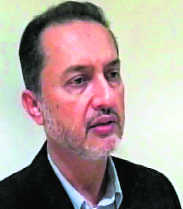 Ashis Ray in London
The present Khan of Kalat, Mir Suleman Khan Ahmedzai, whose ancestors once ruled much of Balochistan, is expected to tell a seminar in London on Thursday that Balochistan's accession to Pakistan in 1948 was an "occupation of Balochistan". He has informed organisers of the event that he will produce documents to substantiate his claim.
The seminar, entitled "Balochistan Re-visited", will be held in a committee room of Britain's House of Lords. It will reflect views of a spectrum of people from academics to Baloch nationalists.
Hyrbyair Marri, a Baloch nationalist and a former education minister in the Balochistan government, will emphasise "Britain did not honour its treaties" with Balochistan and that Pakistan "attacked" Balochistan.
Haider Baloch, a human rights activist, will deal with "human rights violations in Balochistan". He believes it is now at "a critical juncture in the region's history".
Professor Sabir Badal Khan of Naples University is slated to speak on Britain's arbitrary role in the merger of Balochistan with Pakistan. His opinion is that Britain took the Baloch part of the territory on lease from the government of Balochistan in Kalat and that they "were supposed to return it back to Balochistan before they left the region".
In the months following the announcement on June 3, 1947, of India's Partition Plan, the Kalat government made a series of moves, including holding talks with representatives of the Viceroy of India Lord Mountbatten and the future government of Pakistan in Delhi. These talks led to certain preparatory steps towards a formal re-affirmation of the suzerainty of the Khan of Kalat over the Balochistan.
One such meeting was held on August 4, 1947, in Delhi. It was chaired by Mountbatten and attended by his legal adviser Lord Ismay. Kalat State was represented by Khan of Kalat Ahmed Yar Khan and Prime Minister Sultan Ahmed. Mohammed Ali Jinnah and Liaquat Ali Khan represented Pakistan.
It resulted in the signing of a three-point agreement. Jinnah and Liaquat Ali signed for Pakistan and Ahmed for Kalat.
The agreement stated:
"1. Government of Pakistan recognises the independent and sovereign status of the state of Kalat, which has treaty relations with the British Government and whose status and position is different from the other princely states of India.
2. Legal opinion will be obtained to decide whether Pakistan can be the successor to those treaties and to the ones on leased areas.
3. After obtaining the legal opinion, there will be further talks between the representatives of Pakistan and Kalat. In the interim period, there shall be a standstill agreement between Pakistan and Kalat in relation to the areas under lease to the British Government."
On August 12, 1947, Khan of Kalat formally proclaimed the independence of Kalat effective from August 15, 1947. On March 27, 1948, Khan of Kalat acceded to Pakistan under duress and in gross violation of the will of the people of Kalat-Balochistan as expressed unanimously by members of both Houses of Kalat parliament.
Top News
Resolution gets the backing of 13 Council members, while the...
Move comes day after Ali walked out of Lok Sabha proceedings...
The tax department has deployed about 40 large and small mac...
The written answer to the unstarred question number 980, upl...
Punjab Police tell Punjab and Haryana High Court that the in...