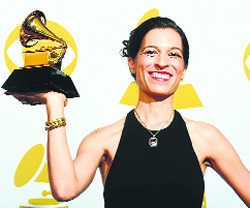 Los Angeles, February 9
Bangalore-based musician Ricky Kej and activist Neela Vaswani won at the 57th Grammy awards for their work in album 'Winds of Samsara' and the documentary on Malala Yousafzai, respectively.
Kej was declared a winner for his collaborative album 'Winds of Samsara' in the New Age Album category. The artiste teamed up with South African flautist Wouter Kellerman on the album.
The website of the album describes the project as a "truly global effort", which draws inspiration from two cultures. The music of the album blends in the creative influences of the cultures to generate a sound of calmness and positivity.
A self-taught musician Kej, 33, has previously composed soundtracks for Kannada films. 'Winds of Samsara' is his 14th studio album.
Other albums nominated in the category were 'Bhakti' by Paul Avgerinos, 'Ritual' by Peter Kater and R Carlos Nakai, 'Symphony Live In Istanbul' by Kitaro and 'In Love And Longing' by Silvia Nakkach and David Darling.
Vaswani, who is the author of the short story collection 'Where the Long Grass Bends' and memoir 'You Have Given Me a Country', won the trophy in the Best Children's Album category for 'I Am Malala: How One Girl Stood Up For Education And Changed The World (Malala Yousafzai)'.
In the album, she had narrated the audio version of the book of the same name.
Anoushka Shankar, 33, daughter of late sitar maestro Ravi Shankar, lost in the best world music album category. It was her third nomination in the category. This year she was nominated for 'Traces of You', her seventh album featuring her half-sister Norah Jones on the track 'The Sun Won't Set'. — PTI