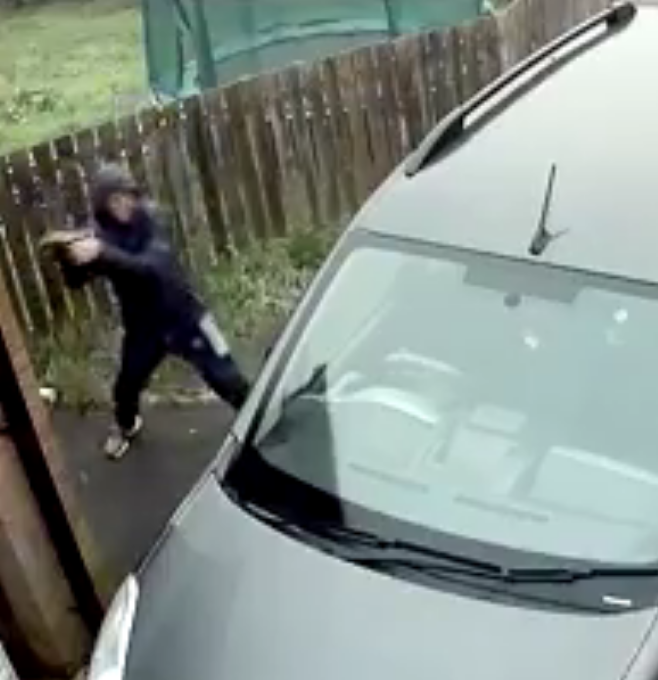 Tribune Web Desk
Chandigarh, October 16
Perhaps, this is how karma pays you. And, for this man, it was instant. An alleged thief's attempt to break into a car failed miserably after he threw a brick at the car's windowpane, only to have it bounced and hit him back squarely on the face, leaving him in pain.
A one-minute video of the incident was shared on Facebook, under the user name: Martin Anthony Ruecroft Craig.
He wrote: "Well yesterday morning 7.08am this nice person decided he would break into my car after many failed attempts karma came too bite him in the face, he also been shop lifting from the local sainsburys so police were there investigating when the delivery driver informed them what was happening he has been charged with criminal damage. enjoy the footage https://youtu.be/8EobH9CAe3k."
In the clip, a man wearing a black hoodie, approaches the vehicle with a brick in his hand. However, as he tries to throws the brick at the window of the car, the brick bounces and hits his face. He can be seen clutching his hands to his face, withering in pain
Social media couldn't hold back on reacting on the thief's bad luck.
I can watch this over and over

— vicki clark (@MurumCeramics) October 12, 2019
Perfect karma

— kc (@RED660) October 12, 2019
Karma bites back.

— Nikki Clarke (@NikkiClarkejb) October 12, 2019
Karma! I really do believe in it 😊

— 🕷Helen of Coy Esq. 🇪🇺🔶 🕷 (@helen_poppet) October 12, 2019
According to a report by Metro News, the incident was captured on a CCTV installed outside Martin Craig's house in Brandon, Durham.
Craig, who lives in England, was amazed to see the footage that he decided to upload it on social media.