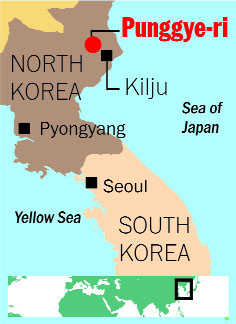 Seoul, January 6
North Korea said today it has conducted a powerful hydrogen bomb test, a defiant and surprising move that, if confirmed, would be a huge jump in Pyongyang's quest to improve its still-limited nuclear arsenal.
A television anchor said in a typically propaganda-heavy statement that the North had tested a "miniaturized" hydrogen bomb, elevating the country's "nuclear might to the next level" and providing it with a weapon to defend against the United States and its other enemies. The statement said the test was a "perfect success," and the announcement was celebrated on the streets of Pyongyang.
South Korean President Park Geun-hye ordered her military to bolster its combined defence posture with US forces and called the test a "grave provocation" and "an act that threatens our lives and future."
There has long been skepticism by Washington and nuclear experts about past North Korean claims about H-bombs, which are much more powerful, and much more difficult to make, than atomic bombs.
A confirmed test, however, would be seen as extremely worrying and lead to a strong push for new, tougher sanctions on North Korea at the United Nations. It would also further worsen already abysmal relations between Pyongyang and its neighbours. North Korean nuclear tests catch global attention because each new blast is seen as pushing North Korea's scientists and engineers closer to their goal of building a bomb small enough to place on a missile that can reach the US mainland. — AP