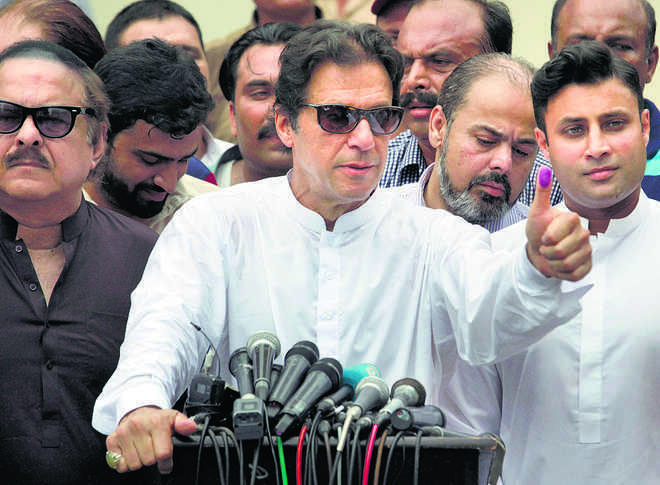 Washington, July 19
America's security assistance to Pakistan will remain suspended pending "decisive and irreversible" action by the country against externally-focused militant groups like the LeT and Al Qaeda operating from its territory, a US congressional report has said ahead of Prime Minister Imran Khan's visit here.
At the direction of President Donald Trump, the US had suspended all its security assistance to Pakistan in January 2018.
Relations between Pakistan and the US have been turbulent since Trump took office in 2017, with the US President repeatedly singling out Islamabad for failing to rein in extremists and being an unfaithful partner in the fight against militants.
Pakistan is hopeful that Khan's trip to the White House later this month would help repair its acrimonious relationship with the US.
Khan's visit is the first high-level trip by a Pakistani prime minister to the White House during the Trump administration.
"Pakistan is a haven for numerous Islamist extremist and terrorist groups, and successive Pakistani governments are widely believed to have tolerated and even supported some of these as proxies in Islamabad's historical conflicts with its neighbours," the independent Congressional Research Service (CRS) said in a latest report on Pakistan.
The CRS is an independent and bipartisan research wing of the US Congress, which prepares periodic reports on issues of interest for lawmakers to make informed decisions. Its reports are prepared by eminent experts in the field and are not considered as an official view of the Congress.
The latest CRS report told lawmakers that the 2011 revelation that Al Qaeda leader Osama bin Laden had enjoyed years-long refuge in Pakistan led to intensive US government scrutiny of the bilateral relationship. PTI
Top News
Suicide bomber blows himself up in mosque packed with worshi...
AIADMK leads demand for passage of Women's Reservation Bill ...
The bench takes note of the submissions by lawyer ML Sharma ...
VB sleuths started assessment of Soni's farmhouse at D R Enc...
Hindenburg stands by its last week's report that said its in...